Softube Classic Channel Plug-in Bundle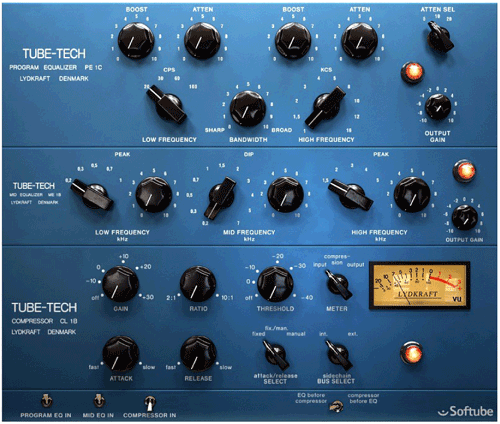 The new Softube Tube-Tech ME 1B midrange equalizer plug-in is the perfect companion to the Softube/Tube-Tech PE 1C program EQ and they both excel when used with the Softube/Tube-Tech CL 1B opto-compressor plug-in emulation that was released last year. Now all three are available in a bundle that will save you about 30% over buying them separately. Besides each plug-in being available as a standalone processor, a fourth plug-in called the Classic Channel is included that features the PE 1C, ME 1B, and CL 1B all in a single, 'super' plug-in.
Thoughtfully in the Classic Channel's GUI, there are three separate bypass switches for each processor section to save host CPU resources when you elect to remove any of them from the signal chain. In addition, there is an EQ pre/post switch that changes the position of the compressor to either before the equalizer sections or after them. Like all of Softube's plug-ins, these are accurate models of the original hardware units--in this case, the wonderful-sounding Danish Tube-Tech tube-based processor units. These plug-in processors come in Native versions for Mac or PC and VST/VST3/AU/RTAS host DAW systems.
It was "welcome to the smooth warm world" when I started using these plugs in my current sessions. Like the hardware units I've used so much over the years, the ME 1B, PE 1C and CL 1B process nearly transparently--there is just no way you can get a bad sound out them. I used the Classic Channel on lead vocals, bass guitar and electric guitars.
The CL 1B was made for Pop mixing--it works on any vocal or instrument track. Vocals that are unstable--not lying within the mix like I want--require serious clamping of their dynamic range and the CL 1B flattens them out nicely. And like the original hardware unit even when it is hard pressed, the CL 1B plug-in produces few of the noticeable side effects compared to other compressors--it always produces a vibey sound that fits my mixing style.
To cut through any track, the ME 1B adds a good mid-range edge right up to the point of almost sounding honky while the PE 1C program EQ adds a high frequency sheen so smooth it sounds like the original sound was a super-high fidelity recording when I know it was not. Most male vocals seem to respond to the 1kHz position while females sound better with the mid-range cut set a little higher in frequency. And you can do the same trick on the ME 1B as you can on the PE 1C: boost and cut at the same frequency. This produces a resonant peak right at the roll-off (corner) frequency of the low frequency shelf. This is an extremely useful EQ for vocals.
The CL 1B has been my favorite bass guitar compressor since I first used the hardware version years ago. After Softube's version came out, I continued my love for this great compressor using it always on bass guitar tracks. Unless I wanted a special compressor effect, I normally use hardly any compression at all--I insert it just for the great change in sound.
The Classic Channel makes a good drum processing chain too. I used the Dip section of the ME 1B to take some of the boxy sound out of a snare drum and followed it with a very small amount of control from the CL 1B compressor. On kick I boosted 4kHz and boosted and cut at 30Hz at the same time. The ME 1B came into play here with a slight boost at 1.5 and 3kHz and I automated the CL 1B signal chain position so that on the song's verse's it was after the EQ section and then on the chorus', it switched to before the EQ. The kick grew larger in the chorus' and then retreated only slightly for the verses--very nice!
With regard to CPU usage, I always try to "break" my computer's back with plug-in testing so I inserted 87 RTAS mono and stereo instances of Classic Channel (with all three processors engaged) on my MAC Westmere 8-core running Pro Tools HD 9 (ver 9.0.2 and OS 10.6.6) with no problems--impressive!
Very impressive too is Softube's Classic Channel comprised of three stalwarts of the recording studio--I can't say enough great things here and I highly recommend adding this one to your plug-in collection!
The Classic Channel sells for $599 at retail dealers in North America (for a list, visit www.mvproaudio.com/dealers.html), or is available direct from Softube for $699. Get more information and/or download a fully-functional trial version at www.softube.com.
---
Web Page design is copyright © 2011 by Barry Rudolph