Sonomax sculpted eers™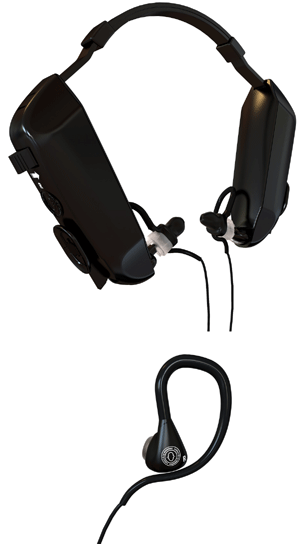 At the recent Winter 2011 NAMM Show, I sat down at the Sonomax booth and in four minutes I had a pair of custom-fitted in-ear monitors ready to go. sculpted eers are the world's first self-fitting earphones made possible by a system comprised of over twelve patented technologies centered on a semi-automated, head-mounted fitting system.
Sonomax Technology's fitting device uses a pair of inflation pumps mounted on a single-use headband mechanism--see it pictured with one of the finished earpieces below. The pumps inflate a small and soft bladder carefully placed into each ear canal with a proprietary medical grade silicone compound. In four minutes, the silicone congeals and turns the bladder into a form-fitting earpiece. The sculpted eers technology is useful for also making form-fitting hearing protection earplugs, hearing aids or Bluetooth earpieces.
With electronics already installed, the fitting procedure finishes by just snapping on a hard molded plastic shell cover.
Any one, after reading all the instructions, can use the Sonomax fitting system--it is painless and is, for the most part, foolproof.
So how do they sound and how do the fit? I received the more expensive dual-driver models and they fit well enough to cancel out a lot of the sound around me at the noisy NAMM show. The earpieces, cords and ear lobe retainers are soft feeling and easy to get on and off. With less outside noise, I can listen to music at lower volumes than with other non-fitted earphones but know that these will rock as loud as you want too. They sound good and match up well with other non-custom-fitted ear buds I've checked out in the same price range.
Oh and as extra feature, since they only fit you, nobody else will ever want to use them. The single driver units are $199 while the dual drivers are $299. Much more information at: www.sonomax.com
---
Web Page design is copyright © 2011 by Barry Rudolph