Source Audio Soundblox® Envelope Filter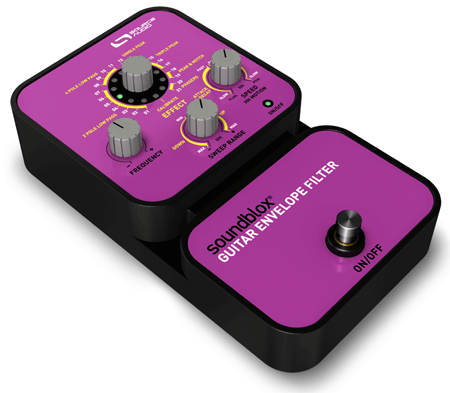 Source Audio has expanded their guitar effect pedal line with the Soundblox® Guitar Envelope Filter. Like their Soundblox Bass Envelope Filter pedal, this larger sized pedal has all the controls of a pro studio unit.
The Soundblox Guitar Envelope Filter or GEF centers around a 21-position rotary switch with 21 different envelope filter setups that include: 2 and 4 pole low pass filters, single and triple peak types, peak and notch filters, and two phaser modes.
I found this unit to be much more sensitive and responsive to playing dynamics and picking techniques that other envelope filters I've tried. This all contributes greatly to the huge number of possible sounds. There are endless filter sounds because you can change parameters such as the direction of the frequency sweep, up or down, as well as vary the center point of the frequency.
A single filter setting such as Single Peak varies greatly when I changed the attack and decay time or how long the sweep takes to go through its evolution. Sounds like auto-wahs or the funkiest, vocal-sounding guitar parts are easy with this pedal due to its 56-bit DSP processing architecture and 24-bit digital-to-analog conversion.
I also tried Source Audio's Hot Hand Motion Controller Ring that comes in both a wired and Bluetooth wireless models. The ring, when strapped to a finger or your wrist, controls the frequency sweep as you move it. The ring is useful for further personalizing a signature Funk riff--it is also a cool crowd pleaser for live gigs.
The Soundblox Guitar Envelope Filter is $169 MSRP and you can learn more from www.sourceaudio.net.
Check the video: www.sourceaudio.net/videos/post/soundblox-guitar-envelope-filter-demo/.
---
Web Page design is copyright © 2011 by Barry Rudolph