Spectrasonics Omni TR iPad App for Omnisphere®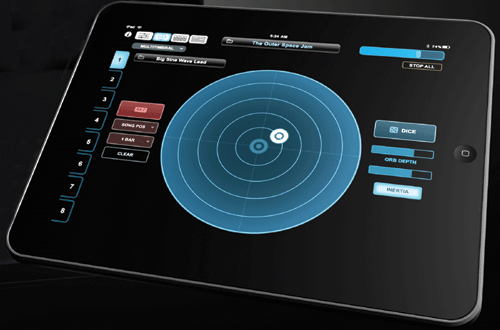 One of the many new iPad apps shown at the 2011 Winter NAMM Show that was actually a useful tool and not just another promotion tool was Spectrasonics' Omni TR. Omni TR turns an iPad into a multi-touch, performance control surface for the company's popular Omnisphere® synthesizer.
Omni TR (Touch Remote) allows the user's fingers to activate patches, tweak filters, re-mix, and then bend and spin amazing performance possibilities from the innovative new Orb circular controller.
I found the high contrast interface to be easily seen in dark studios or during live stage performances. Of course your iPad works wirelessly over a WiFi network connected to a nearby computer running the synth's software. There are four pages: Main Page mirrors Omnisphere's Live Mode offering 8 patch slots with latching and trigger modes, individual mute and solo, and mixer faders. The controller page for Orb is perfect for iPad control and presents a whole new live performance aspect to Omnisphere.
The Controls page has onscreen pitch ribbon performance controller and eight touch sliders assigned to groups of the most useful performance/editing parameters for each Omnisphere layer. Lastly, the Jumbo page shows patch names for all eight parts and is easily seen from a distance on stage or studio.
By the time you read this, the cool Omni TR iPad app will be available free to registered users of Omnisphere from the App Store. Much more at: www.spectrasonics.net.
---
Web Page design is copyright © 2011 by Barry Rudolph