TC Electronic LM5D Loudness Meter Plug-in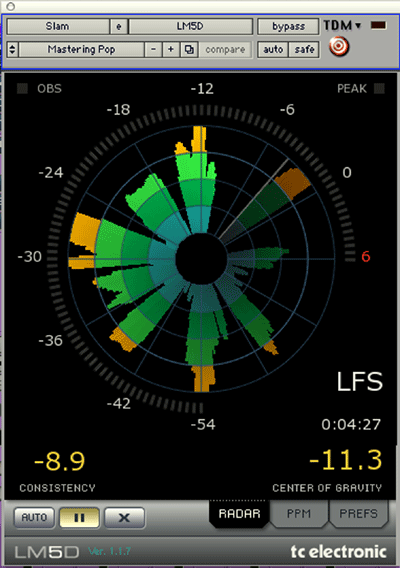 The LMD5 Loudness meter runs as a TDM plug-in in Pro Tools systems and correlates electrical level with perceived loudness for any mono, stereo or 5.1 surround audio source. Denmark-based TC has been at the forefront of both research, development and the compilation of a universal database of loudness based on over ten thousand individual measurements.

It turns out that perceived loudness of music program depends on a person's environment, playback system (home stereo, movie theatre, iPod, or an in-flight entertainment system), music genre and (obviously) the way the music is produced and mixed. As a music mixer in my Tones 4 $ Studios, I've been using the LM5D on my stereo bus to assess the loudness of my mixes in addition to measuring the electrical level like any other meter plug-in. It does both these jobs in a whole new way.

For me the education begins when I import currently popular records into my Pro Tools sessions and read them on the same LM5D plug in. Besides indicating true peak levels on a bargraph display, there is a mesmerizing "radar" display that shows loudness history over an adjustable time period from 1 minute to 24 hours. Since I'm able to designate the time period for the radar sweep to make a complete revolution, I save a lot of time seeing at what point(s) during the song I had an over level or when the mix is excessively loud or soft. This is beyond what conventional meters with simple peak hold lights do.

Besides a loudness history, the LM5D measures the aggregate short-term loudness and also logs long-term information such as Center of Gravity or the average loudness of the program and Consistency--a measure of loudness variations within a program. These "Universal Descriptors" make the LM5D especially indispensable for broadcasters who soon will have to conform to government-mandated guidelines to maintain more consistent loudness levels and ameliorate the vast jumps in volume between commercials and programs we all suffer through. Much more at www.tcelectronic.com.










---
Web Page design is copyright © 2011 by Barry Rudolph