TC Electronic Vortex Flanger Featuring TonePrint Technology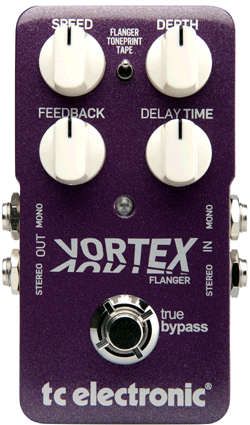 The new TonePrint pedal line has seven pedals now and I chose the Vortex Flanger pedal for my first trial--I was not disappointed. This is a standard sized stomp box with more features crammed into it than I thought electronically possible. It is a mono/stereo pedal (dual input and output jacks) with a rugged, true hardware bypass switch and four smooth-working control knobs.
The controls have everything you need: Speed sets the flanger rate anywhere from 'glacially-slow' to an extremely fast blur; Depth adjusts from subtle and smooth to a disturbingly amount of pitch-bent flanging; Delay Time sets time from the 1ms area for flanging all the way up to 10ms for darker and prettier chorus effects; lastly Feedback provides both negative (CCW) and positive (CW) feedback with zero amount at straight up, 12noon. I found negative feedback to get that resonant peaking effect while positive feedback produces smoother studio-like sound.
The TonePrint technology is a way to download and store a single, customized pedal setup right into the pedal via a mini-USB cable (included). Well-known guitarists have developed these 'patches' and there are nascent collections building right now for five of the seven (so far) of the TonePrint-enabled pedals and they are available at: www.tcelectronic.com/toneprint-the-concept.asp.
On Vortex, there is a three-way switch to select between: standard flanger operation, Tape--a great emulation of 'old-school' flanging, and the stored TonePrint flanger setup. I liked the way the Tape mode sounds reminiscent of old-fashion tape recorder flanging--there is an actual cancellation of sound as it sweeps through zero axis. This is very authentic sounding!
I found Vortex to sound and work perfectly, have a long battery life and smart internal programming for configuring the bypass switch for: true bypass, buffered bypass for long cable runs, and Kill-Dry mode where no direct signal is present on the output. Kill-Dry is for parallel effects loops.
TC Electronic's Vortex sells for $177 MSRP. Check out: Corona Chorus, FlashBack Delay, Hall Of Fame Reverb, and Shaker Vibrato pedals that are all TonePrint-enabled plus MojoMojo Overdrive and Dark Matter Distortion that are not. Much more at: www.tcelectronic.com/pedals.asp.
---
Web Page design is copyright © 2011 by Barry Rudolph