TC-Helicon VoiceTone Singles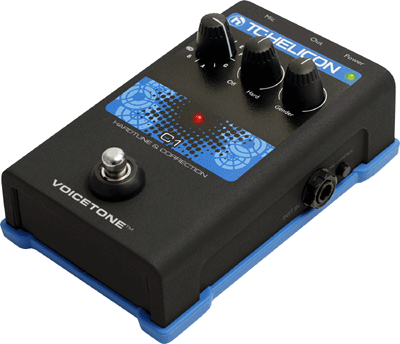 VoiceTone Single C1 HardTune & Correction

TC-Helicon's four new VoiceTone Singles are a new class of gear: stomp pedal effects boxes for vocalists. The four VoiceTone Singles are the T1 Adaptive Tone and Dynamics processor, C1 or HardTune & Correction pedal (shown at the right), the D1 Doubler & Detune unit, and R1 Vocal Tuned Reverb. For building your own vocal pedal board, up to four VoiceTone Singles may be interconnected using the Singles Connection Kit.

I tried all four models and was impressed by how good they all sound and how easy they are to set up and adjust. Phantom-powered (or not) microphones plug into a standard XLR connector and your soundman will like that the units have the appropriate male XLR jack for normal connection to the PA system's mixer. Because they go inline with any standard mic and cable, they'll work on any stage and at any gig.

T1 was excellent to control the wayward singing dynamics while C1 will keep vocals more in tune no matter the key of the song. C1 will also let you do auto tune effects if you wind it up far enough. I like D1 for its doubling effect--there is a slight detune quality that will make vocals wider and more pitch center ambiguous--you don't readily hear the singer as off-key as the humanizer feature applies micro-tuning changes similar and more subtle than a chorus pedal effect.

Lastly, R1 is one of the best reverbs I've heard in a small stomp pedal. It has eight presets from long reverbs such as Hall, Plate and Theatre to smaller spaces called Club, Room and Studio. The Ambience and Arena presets are super long reverbs and great for switching in during epic moments in your songs you'd like to further dramatize.

All VoiceTone Singles have mini-USB connectors to interface to your computer for registering and downloading the latest firmware updates and tips using the TC-Helicon VoiceSupport application.They all have the Mic Control feature for manually toggled the pedals on/off remotely by using the button right on the TC-Helicon MP-75 Modern Performance vocal microphone.

For any gig and any venue, large or small, all of the VoiceTone Singles will enhance any singer's sound immediately with the least amount of set up hassle.

Suggested MSRP prices are: T1 $179, C1 $235, D1 $205, T1 sells $205. Much more at: www.tc-helicon.com/products/voicetone-singles/.







---
Web Page design is copyright © 2011 by Barry Rudolph