Universal Audio UAD-2 Satellite DSP Accelerator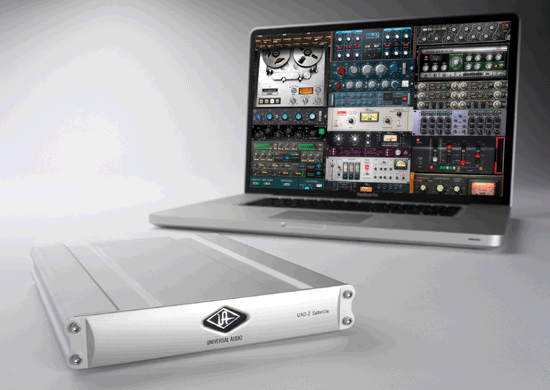 The Universal Audio UAD-2 Satellite is the newest entry to their line of DSP accelerator systems that provide access to their entire library of award-winning UAD Powered Plug-In processors. The UAD-2 Satellite runs externally with the included power supply and connects by Firewire 400 or 800, with any modern Intel-based iMac, MacBook Pro or MacPro tower (Mac only right now).
Akin to carrying your own huge outboard effects rack to every mixing gig, the UAD-2 Satellite enables you to run larger mixes with numerous plug-ins in Pro Tools, Logic, Cubase, Nuendo, Digital Performer and other DAW systems without overly taxing your host computer's CPU.
The unit comes with authorizations for both mono and stereo versions of the following plug-ins: both the 1176LN and 1176SE limiting amplifiers, UA's CS-1 Channel Strip, Pultec® EQP-1A equalizer, UA's RealVerb Pro Custom Room Modeler, and the Teletronix® LA-2A classic leveling Amp plug-ins.
As close as most of us will ever get to mixing and recording in a world-class studio with a giant console and many racks of classic outboard gear, the UAD-2 Satellite enables any DAW user to have the same kind of creative processing freedom. Like a dream come true, anywhere you and your studio are located, you'll have the ability to use any or all of Universal Audio's virtual signal processors with just about no concern of DSP/CPU resource restrictions.
Prices start at $899 MAP and there are five models to choose from: DUO (Core); DUO Flexi (w/ $500 Plug-In Voucher); QUAD (Core), QUAD Flexi (w/ $500 Plug-In Voucher), and QUAD Omni v.5.7 (w/ 50 UAD plug-ins). Check out: www.uaudio.com.
---
Web Page design is copyright © 2011 by Barry Rudolph