Ultimate Ears In-Ear Reference Monitors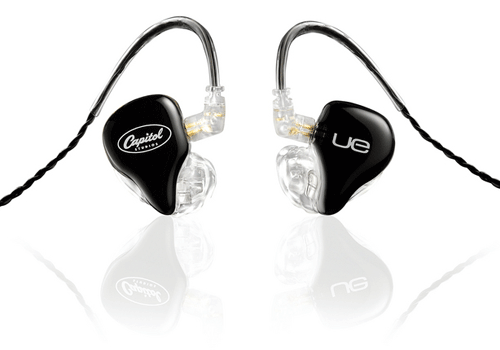 With recording, mastering, and mixing going more mobile lately, the need for portable and trustworthy monitoring has arisen. Lugging around decent sized powered monitors is not a good option. Besides their heft, the acoustics of the working space will factor into the monitoring accuracy. Ultimate Ears' new custom in-ear reference monitors were designed in conjunction with pro recording engineers and producers and Capitol Studios in Hollywood, CA. The new UE monitors deliver a flat response curve that is both natural and dimensional. They are for use in studios for recording, mixing and mastering, on the road with portable laptops, live venues and rehearsal studios.

Each of the handmade monitors has three individually tuned, balanced armature speakers (woofer, mid driver & tweeter) and are able to reproduce frequencies from 5Hz to 20kHz. Other details are: 98 dB SPL @ 1 kHz, 100% acrylic housing, 1/4-inch jack gold-plated adapter and 3-pole 1/8-inch standard jack.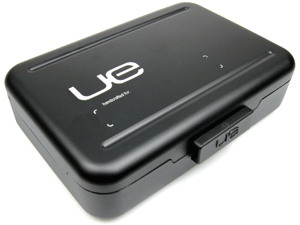 The Included Ultimate Ears Carrying Case

I've been using a pair of UE in-ear monitors for about three months now and there are a number of advantages when compared to using conventional monitor loudspeakers. First of all the acoustics of your work space don't matter any more for monitoring accuracy--forget about expensive acoustic room treatments or complex electronic monitor speaker processing; secondly, sound isolation between your space or an adjacent recording room or outside external noise is not very important any more since you'll have up to 32dB of isolation wearing these custom form fitted units directly in your ears.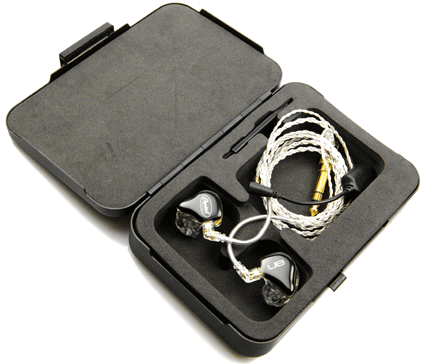 The Ultimate Ears Reference Monitor Kit

Perfect for mixing and recording in the same room, after using the UE monitors all the time, you'll start to use your speakers less and less--more for parties than work. You and your co-workers will love wearing them because they are so comfortable--it's easy for me to forget I have them on. Other good things: you're always listening in the stereo "sweet spot" exactly equidistant between the left and right channels--judging mix moves, effect levels, spectral balances, and pan positioning are all super precise. Things wacked are immediately heard and corrected--even if they are not that prominent in the mix.

If you must go where the talent is and record and mix at their home, or in multiple unfamiliar studios, or on a plane you can rely on these great new monitors to give you a "standardized" and accurate monitoring system. Plus they travel easily by just fitting into your pocket.

The Ultimate Ears In-Ear Reference Monitors come in a "easy-to-pack" small black custom aluminum carrying case and have a suggested retail price of $999. That does not include the cost to have a qualified audiologist create your ear impressions. For additional information, visit www.ultimateears.com.







---
Web Page design is copyright © 2011 by Barry Rudolph