Yamaha's A-Series Acoustic-Electric Guitars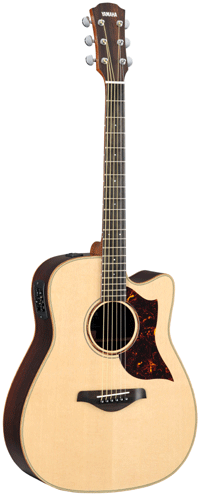 The new A-Series are handcrafted guitars offered in both dreadnought cutaway and concert size cutaway models. A-Series is a whole new look in guitars for Yamaha and not at all like the style of their successful FG Series and L Series guitars.
There is a new headstock design, a subtle but beautiful rosette and a very thin mahogany binding. I liked the slim neck profile (As I have smaller hands), lower action with very slightly wider string spacing (As compared to other Yamaha acoustics), ebony bridge and the comfortable rounded fret board edge. All eight guitar models in the A-Series line have ebony bridges with all four guitars in the 3 Series, like the top-of-the-line Concert AC3, also fitted with ebony fret boards.
Dreadnought and concert shapes are offered with mahogany back and sides or rosewood back and sides. All models feature solid spruce tops and have Yamaha's new S.R.T. (Studio Response Technology) electronics built-in. The electronics uses both a piezo pickup system with a built-in microphone modeler and three different mic settings. You can mix the model mic sound with the piezo and the feedback detector system prevents embarrassing squeals in live performance situations.
There are eight models in the new A-Series line that range in price from $950 to $1,350 MSRP. Much more at www.yamaha.com.
---
Web Page design is copyright © 2011 by Barry Rudolph