Yamaha DTX Electronic Drum Kits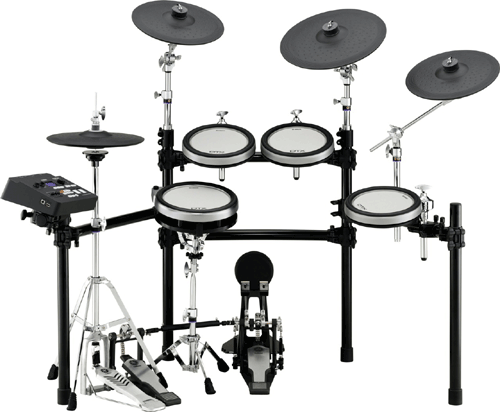 The new DTX kits feature Yamaha DTX-PAD drum pads that have Textured Cellular Silicone (T.C.S.) playing surfaces for a natural playing feel and stick response. This is accomplished by injecting small air bubbles into foamed silicone head material. These kits are modular; so you can mix, match and add pads at will.
The Yamaha electronic drum kits start with the 500 series and feature the redesigned DTX500 Drum Trigger Module. It has 427 drum, percussion and effect sounds, along with 50 pre-set drum kits plus 20 user-editable kits. It also features on-board practice tools and recording functionality, MIDI out and 12 trigger inputs compatible with all DTX-PAD drum pads and cymbal triggers.
With the DTX500K, you get a five-piece kit based on the DTXPLORER brain with 32 preset drum kits. Go with the DTX520K kit and get a three-zone XP80 8-inch DTX-PAD snare, a three-zone PCY100 10-inch crash cymbal and the all-metal RS500 drum pad mounting system. The DTX530K includes the same configuration but adds the RHH135 vertical motion hi-hat system and two, three-zone PCY135 13-inch cymbals for ride and crash. Top-of-the-line in the 500 series is the DTX560K with three additional XP70 7-inch tom-tom drum pads.
The DTX700 series kits (DTX750 kit shown) feature the new DTX700 Drum Trigger Module, with 1,268 drum sounds, powerful DSP effects and 128 keyboard sounds from the MOTIF-XF. It is worth the extra digits to be able to import your own samples into the head's 64MB of onboard memory. Then you might want to connect your computer via USB to store/load files and connect the MIDI in/out to the included Cubase AI Digital Audio Workstation software.
The DTX700K is exactly configured like the DTX560K but adds three-zone DTX-PADs for snare and toms, two crash cymbals, and a larger PCY155 15-inch ride cymbal all mounted on the RS700 rack using standard (acoustic) drum hardware. The DTX790K uses larger DTX-PADs for all drums, including a large kick pad, and each drum has a control knob for adjusting the tone right on the pad.
The new kits sell for (all MSRP): DTX790K $5,752, DTX750K $4,825, DTX700 $3,467), DTX560K $2,779, DTX530K $1,874, DTX520K $1,649 and DTX500K $1,197. Go to: 4wrd.it/DTX.
---
Web Page design is copyright © 2011 by Barry Rudolph