Yamaha MOX8 and MOX6 Music Production Workstations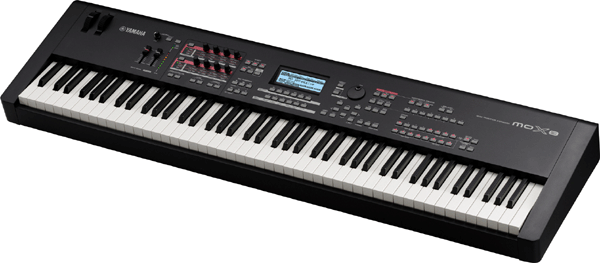 The MOX8 and MOX6 music production synthesizers have 1,217 sounds, 355 MB of waveform files, and the same synth engine with 18 different filter types as the MOTIF XS. But the news is that it comes as a smaller, lighter weight and more mobile instrument. Yamaha's Expanded Articulation offers a realistic replication of acoustic instruments and exotic synth sounds plus the ability to produce warm, natural vintage sounds via the Motif's Virtual Circuit Modeling.
The MOX keyboards are geared towards song creation, performance and recording with 256 performance patterns, 6,720 arpeggiator patterns and the Motif XS's four-part interactive arpeggio engine. A Performance Creator sets up splits, layers and drum parts and the integrated 4-in/2-out USB audio/MIDI interface eliminates the need for a separate audio I/O for creating and recording music with a PC running any ASIO-based software. You can record the MOX's audio directly into a PC and then plug-in and record microphones for vocals or guitars through its stereo A/D input channel.
The MOX's MIDI keyboard controller controls DAW and VST programs and both the MOX8 and MOX6 keyboards come with a software package that includes the Cubase AI5, Yamaha's YC-3B virtual synth organ and Steinberg's Prologue analog modeling synth.
The MOX8 is $1,999 MSRP and has 88 Graded Hammer Standard keys and weighs 32.6 lbs while the MOX6 is $1,499 MSRP, has 61 semi-weighted keys and is only 15.4 lbs. Visit: 4wrd.it/MOX.
---
Web Page design is copyright © 2011 by Barry Rudolph