AKG's Perception Headphone Series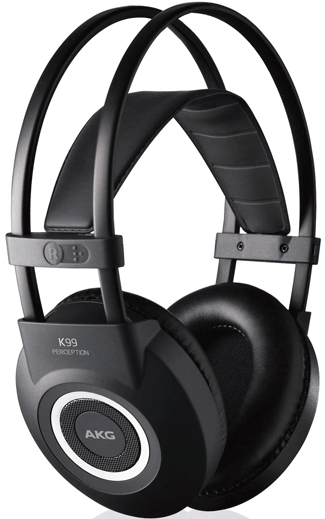 AKG's new line of Perception Headphones share the same goals as their cost-effective yet good-sounding Perception Live Series microphone line. All three, the K44, K77, and K99 in the new Perception headphone collection are over the ear designs that include comfortable leatherette ear pads and self-adjusting headbands for extended wear.
I like that these phones come with a 3-meter straight cable hard wired to the phones plus a convertible plug that changes instantly from either a 1/4-inch or mini plug. They are ready to go at any time from listening at home, to the studio, and then straight for use with your portable music player/iPhone. In the recording studio, I prefer straight cables on headphones--they usually never catch on edges, lie flat on the floor, and seem to last a lot longer and don't knot up like curly-cords.
The circumaural, semi-closed design of the K44 Perception phones have a solid low frequency response and are fine for music enthusiasts on a budget. Next are the stylish K77 Perception headphones; they are a different look for semi-closed headphone and have good bass and sound.
I received a set of the K99s for evaluation and they are a semi-open design with large, 40-mm drivers. These drivers produce good bass for musicians and singers who want to feel their music while recording or just grooving. The K99 Perceptions are very lightweight and a pleasant fit on my head for long sessions. They sounded great connected to my Aphex Systems Model 454 HeadPod headphone amp.
For more about the new Perception headphones, check: www.akg.com.
---
Web Page design is copyright © 2012 by Barry Rudolph