SuperBeam SB-405 Headset From Andrea Electronics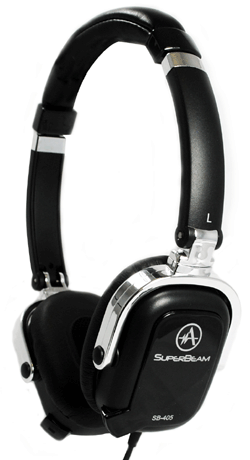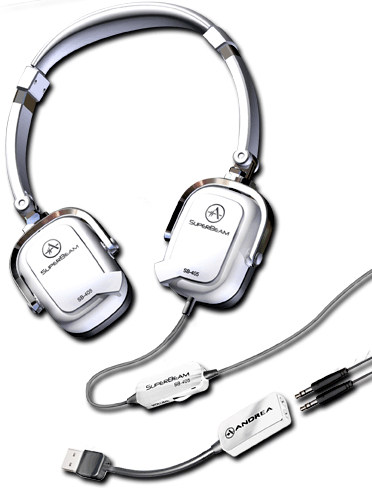 Andrea Electronics' SuperBeam™ headsets are a supra aural design (they rest on top of your ears) and do not have a mic boom for the built-in microphones. Yes! You would never know it, but there are two microphones (20Hz-20kHz response) in these cool-looking stereo headphones. They use Andrea's patented Adaptive Beam Forming technology to focus on the user's voice while canceling background noise--such as street and road noise if you use them (like I do) for hands-free phone calls in the car. (Now the law here in California!)
But the SuperBeams also work great as a pair of headphones for your iPod (or any music player) and they come also with an USB 2.0 interface for using them with your computer for Skype calls, multiplayer gaming, speech recognition software, iChat, or Voice-Over-Internet phone calls. The interface is an adapter cable that plugs in-line with the headphone's cable--it's plug n' play with Macs and PCs. Add the Mobile Adapter cable ($9.95) and they work great with your smart phone too with plenty of volume available.
Since the microphones have there own output jack, you can use them to record in stereo--actually binaural stereo--the way us humans hear sound. Playbacks are three-dimensional sounding and recording is possible as the same time as you're listening to music. Hmm how about recording that next band rehearsal?
There are two models: SuperBeam Buds (ear buds) and SuperBeam Phones (as tested here). They come in black or white and retail for $129.95 and $149.95, respectively. Check:www.superbeam3d.com/ for more.
---
Web Page design is copyright © 2012 by Barry Rudolph