Aphex HeadPod 4 Studio Headphone Box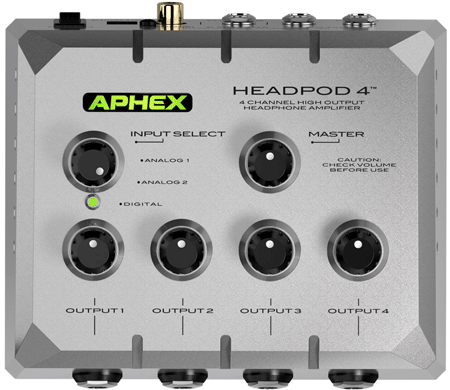 Aphex®, a division of DWV Entertainment, has the modern HeadPod 4™ studio headphone box. It more than updates my Aphex Systems Model 454 HeadPod I previously reviewed, purchased and still own for my Tones 4 $ Studios' control room headphone system. As before, the HeadPod 4 has four stereo headphone 'stations' each with its own power amplifier and level control. The four top panel volume controls for the four separate stereo power amps allow any combination of disparate headphones anywhere from iPod ear buds to my professional Shure SRH940s to be driven simultaneously and without interaction to maximum, comfortable loudness.
The biggest change from the old analog-only 454 is the addition of a three-way source selector switch. This source selector makes Aphex's HeadPod 4 universal the world over for desktop audio production, recording and broadcast studios, language labs, quality assurance listening stations, rehearsal and live sound venues such as worship spaces and schools. It interfaces simply with any audio system no matter operating audio level, impedance requirement(s) and also accommodates digital sample rates up to 96kHz/24-bit.
Select Analog 1 for a +24dBu balanced audio input using two TRS jacks (L/R); or Analog 2 for -10dBv unbalanced input using a single stereo TRS (stereo headphone extension cable), then select the Digital input for the S/PDIF coaxial (RCA jack) and direct connection to you computer's sound card output.
Source selection allows for many capabilities new to headphone boxes in this price range. How about switching between two different stereo headphone mixes and then go to the digital input for listening to an external CD player over headphones? Because a digital-to-analog converter is built in to the HeadPod 4, you could listen to music CDs (44.1kHz/16-bit audio) via the S/PDIF input even though you're working at a different sample rate/bit depth in your DAW. Besides the Source switch, there is a Master input level control for proper gain staging depending on nominal input levels from all three sources.
I like the rear panel on/off switch on the HeadPod 4 (I have to unplug my power supply on my old 454 unit) and the HeadPod 4's new futuristic look with its faceted edges. Not new is the price though: same as the old analog-only box at $249.95 MSRP. Check: www.aphex.com
---
Web Page design is copyright © 2012 by Barry Rudolph