B. Hefner Company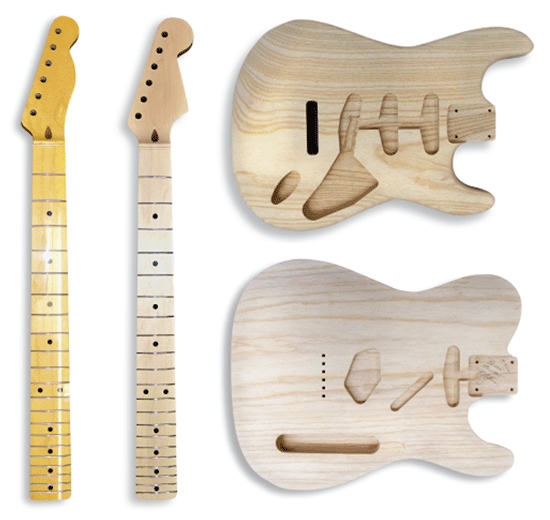 B. Hefner Company of Whittier, CA manufactures guitar necks and bodies as a way to offer a USA--made custom instrument but at a fraction of the total cost because you build it yourself. Most accomplished guitar players know all their preferences with regard to very specific and arcane details that affect their playing comfort, performance and sound--all ultimately leading to inspired performances and better music.
Licensed by Fender, B. Hefner specializes in producing custom-made Fender guitars and bass bodies and necks using a complete database of all the original measurements of Fender's classic instruments. B. Hefner can recreate the exact and very specific shapes ('quirks' at all) of Strat and Tele type bodies made in any year from the '50s, '60s through the '70s.
Just as having a customized Fender Strat or P-Bass built, you could specify any model of P-Bass, Stratocaster or Telecaster body--even Thinline Teles with semi-hollow bodies in your choice tone woods such as: alder, swamp ash, rosewood or maple. For a certain look, tone and/or lighter weight, order highly-figured maple or any lightweight wood (not offered originally) finished in either polyurethane or nitrocellulose lacquers and in all the original vintage colors or just about any custom finishes you like.
You can order necks quarter-sawn in birds-eye or flame maple with your choice of maple, rosewood or ebony fingerboards and with different nut widths from 1 5/8 to 1 1/4-inches wide and your choice of different nut materials from Corian®, graphite or bone. Any neck radius' playable by normal, human-sized hands, fret wire in nickel, silver or stainless from vintage to jumbo gauges and any neck profiles from vintage to modern with your choice of clay, white, black, abalone or mother-of-pearl fret markers is also doable.
Prices for bare Fender bodies range from about $125 to about $450 while unfinished rosewood and maple necks start at $132. Tweaky and "franken-strat" guitars are instantly possible but impossible combinations might take a little longer. Check: www.bhefner.com
---
Web Page design is copyright © 2012 by Barry Rudolph