Focusrite Forte USB Audio Interface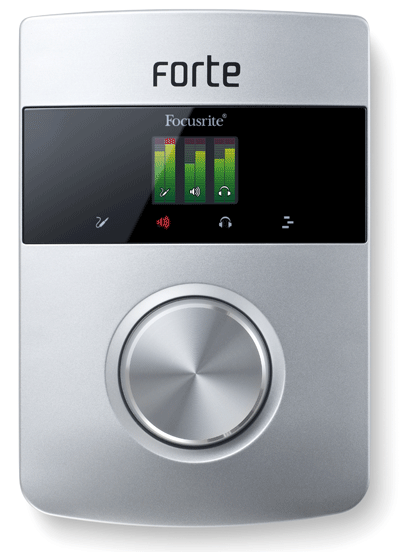 Focusrite's Forte is a portable, desktop USB 2.0 audio interface for Macs and PCs with two analog inputs and four analog outputs. Its sleek modern industrial design starts off with a beautiful backlit OLED status display, four touch-sensitive icon buttons and a single, large aluminum controller knob.
Forte uses two of Focusrite's high-end remote controlled RedNet pre-amplifiers with 24-bit A-D and D-A converters operating at sample rates up to 192kHz. The total or chipset ADC/DAC dynamic range is specified at 120dB and that is amazing!
The included Forte Control software driver (ver 1.0) controls all settings for input source selection with a choice of any combination of two 1/4-TRS inputs and/or two XLR microphone inputs. FC sets individual phantom power on/off, microphone gain, (phase) polarity flip, -10dB microphone pad, in/out 12dB/Oct high pass filter, and input impedance choice: high (for direct guitars) or low for the TRS inputs.
Also stored is the monitoring configuration for the two, six-channel stereo monitor mixers--separate mixes for speakers and headphones. Plus you can mix in any amount of incoming source audio for near-zero latency monitoring.
Forte's remote control is bi-directional; changes on either the Forte itself or the Forte Control software are always synchronous. Once configured, there is little need to adjust the controls in FC's GUI--all changes happen on the Forte itself.
Forte's four touch buttons determined the function of the controller knob for: record level, monitor volume, headphone loudness, and DAW basic control. The default DAW control is stop/start by tapping the knob itself and horizontal zoom in/out when turning the knob left or right. You can view and reprogram DAW control when you touch and hold the DAW icon but, honestly I could not have picked a better pair of default shortcuts for my Pro Tools workflow and methodology. DAW control works with all the popular DAW software systems.

All four source inputs are clearly marked on the female (2- 1/4-inch and two XLR) connectors at the end of Forte's included "loom"--a multi-core cable that plugs directly into the back of the unit using a special multi-pin Amphenol connector. I connected an Audio-Technica 4081 Active Ribbon mic to XLR input 1 and also a Fender Strat to the input 2's 1/4-inch jack. My two Adams 2.5A monitors received line level signals from the balanced L/R TRS output jacks. To power the A-T mic, I connected the supplied wall-wart power supply that is required only for phantom powering.
I liked that I could keep all four analog sources connected at all the times but I wish the loom's cable were about six feet longer. Perhaps a nice option/accessory would be an 8-foot input "snake" cable with a matching Forte aluminum box equipped with two XLRs, two TRS jacks and headphone jack(s).
Forte and the Forte Control software is qualified to run on MAC OS 10.7 and 10.8 but I had no problem running Mac OS 10.6.8 on my Mac Pro 8-core computer after I registered Forte and download version 1.3 of the included Focusrite Midnight plug-in bundle.
I went to work recording guitar and vocals. I set my buffer size to 32 samples in Pro Tools 10.2 and put up a 44.1kHz session with 16 tracks already recorded and setup for recording a few overdubs. This system sounds smooth as silk. On Forte itself, changing monitoring and record levels using the knob "on the fly" is just like using analog. I recorded vocals and direct electric guitar and there is abundant gain available for old, low output ribbon mics as well.
Inside of Pro Tools I set up a separate headphone mix sent pre-fader to outputs 3 and 4 called "HP L/R" in both the Forte Control software and PT's I/O page where the main monitor mix outputs are called L/R outputs 1 and 2. In overdub mode, the exact monitor/headphone mix relationship between the source audio input and track mix is done in the Forte Control GUI if you want maintain lowest latency monitoring. I immediately found the headphone amp driving my 55-ohm Shure SRH940s headphones to go louder than loud if I needed to hear deep into the mix.
This system sounds smooth as silk. On Forte itself, changing monitoring and record levels using the control knob is without "zipper noise"--a stepping noise you hear when using other remote level control systems. While in record, I could change mic gain "on the fly" just like when working in analog with no clicks or noise. I recorded vocals and direct electric guitars and yes, the impedance change choice is hearable--especially with my Strat and its single coils. Choosing high impedance "unloads" the Strat's passive pickups--retaining its bright spank, quality. Recording XLR mic inputs is totally pro with abundant gain available even for old low output ribbon mics.
I like the way the GUI software is written too--notable since it's just ver 1.0! Whenever phantom power is required, a warning comes up to see if the power supply is connected plus there is a phantom powering lockout--you cannot inadvertently apply phantom to line inputs.
Focusrite's Forte desktop 2 X 4 USB 2.0 interface sells for $749.99 MSRP and for much more, check: us.focusrite.com/usb-audio-interfaces/forte.
---
Web Page design is copyright © 2012 by Barry Rudolph