Fostex AR-4i Audio Interface/Dock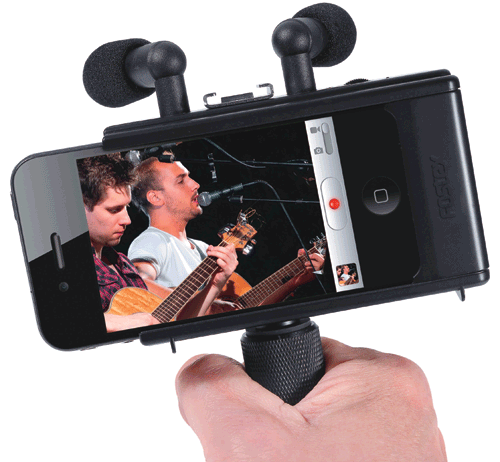 The AR-4i audio interface/dock holds any iPhone 4 and converts it into a viable video camera quickly and without any modifications or tweaky adjustments. After installing the Fostex AR-4i app (free download from iTunes), you'll be ready to shoot video using either of two significantly different setups.
For ENG-style videography, screw in the metal pistol grip (included) into the unit's threaded camera tripod mount and the iPhone goes into landscape mode--on its side. To go with this wide HD look, plug in the two included cardioid condenser microphones for an appropriately wide stereo sound.
The iPhone 4 goes vertical in the second method--the perfect setup for fixed positioning--such as sitting on a desktop for recording lectures or (on in my case), press conferences. Screw in the pistol grip into a secondary tripod mount and this setup becomes good for hand-held, "point and shoot" home movies.
The AR-4i has three microphone/line mini-jack inputs that supply 2.5 volts DC for powering your choice(s) of external microphones. The convenient third mic/line input is an excellent feature that lets you have an additional monaural mic/line level input source at the ready at all times. The unit's onboard logic dictates: input #2, when plugged in, automatically disconnects input #3--simply unplug the #2 input and the #3 input become active--Sweet!
Mono or stereo operation and any processing (such EQ) depends on the iOS app you're using but there are both physical mic gain level and headphone level controls right on the AR-4i itself--a big plus in my world! There is also a LED level meter for input level monitoring and a Link indicator to tell you that the running iOS app is connected and working.
The AR-4i runs on two AAA batteries (included) but will power from a connected PC using its mini-USB jack (cable not included). A standard camera shoe clip is mounted on the AR-4i for attaching other mics or a LED light bar. The AR-4i sells for $299 MSRP. Check: www.fostex.com and itunes.apple.com/app/ar-4i/id449095429 for more.
---
Web Page design is copyright © 2012 by Barry Rudolph