iRig MIDI from IK Multimedia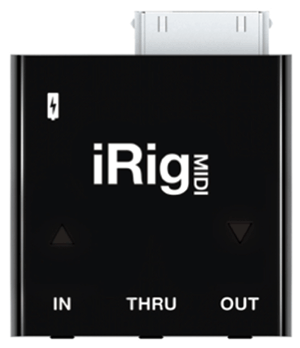 iRig MIDI is the third and newest device in IK's line of iRig iOS interfaces that plug into the dock connector of an iPhone, iPad 2, or iPod Touch. There is also the iRig for connection of electric guitar/bass and iRig Mic for recording any acoustical source into your iOS device--vocals for example.
Mobile music making along with the number of the music-making software apps for mobile devices is growing exponentially! People work on their music everywhere now--one of my students records bass tracks played by a new friend he met on their hour-long bus ride to school.
I use IK's new SampleTank FREE, a pro-quality sample-based sound and groove module app to produce fantastic tracks. It has many choices of sounds and loops with more you can add later. The "starter" Free version comes with iRig MIDI.
iRig MIDI has three 1/8-inch, MIDI jacks (IN, THRU, OUT) and a set of 5-foot long adapter cables with standard MIDI DIN jacks to interface standard MIDI equipment such as keyboards, drum machines etc. Two LEDs on iRig MIDI display the MIDI activity on the IN and OUT ports--a very handy visual check that everything is working and connected properly.
With SampleTank running in my iPhone 4S or any of the over 100 apps that use Apple Core MIDI standard, the phone becomes a musical instrument available the same as any external MIDI instrument that is Core MIDI compatible. Applications such as Apple's GarageBand work fine.
Just like any MIDI controller, iRig MIDI also allows iOS apps to control external equipment. Sound modules, digital audio workstations or even lighting systems are controllable right from the mobile device.
iRig MIDI is powered directly from the mobile device, but for longer sessions, use its micro USB port and cable (included) to get power from any USB power supply or nearby computer. iRig MIDI sells for $69.95 and in addition to SampleTank FREE, it comes with iRig MIDI Recorder FREE a MIDI data recorder/player utility. Check: www.irigmidi.com and www.irigmidi.com/compatibleapps.
---
Web Page design is copyright © 2012 by Barry Rudolph