Mackie DL1608 Live Sound Mixer
The Mackie DL1608 16 X 8 Live Sound Mixer is the hottest new live sound audio product I've seen in years. The updated Master Fader App (ver 1.1) runs on any Apple iPad™ which locks into the DL1608's docking tray and provides the GUI for control, signal processing and mix of any combination of 16 microphone and/or line level analog sources coming into the 16 Mackie Onyx analog mic/line pre-amps (12 XLR and 4 XLR/Combi jacks).
There are eight analog bus outputs: master stereo bus and six, auxiliary (mono) send outputs. The six TRS aux output jacks are useful for driving stage wedges or IEMs and are controlled on separate GUI layers with complete mix signal processing available for every channel of each auxiliary.
While docked to the DL1608, your FOH mix can be recorded into the iPad in full CD-quality (16-bit/44.1kHz .wav file--Master Fader ver 1.2 will include recording up to 24-bit 96kHz) and saved for retrieval via iTunes® sync with your computer. Premium 24-bit Cirrus Logic™ AD/DA conversion technology is used throughout the DL1608.
When you undocked the iPad, all the DL1608's functionality (except recording) is the same wirelessly using any standard WIFI router/hub connected to the DL1608. 10 iPads can connect (sync) and control concurrently--with admin/user permission/password tiered access coming soon in a subsequent Master Fader App update.
For this high level of technological complexity, I found it amazing that all of this worked letter-perfect the very first time with just scant perusal of the included quick start manual! For deeper configs, the Master Fader App itself contains a .pdf reference guide updated with each new version. I love that!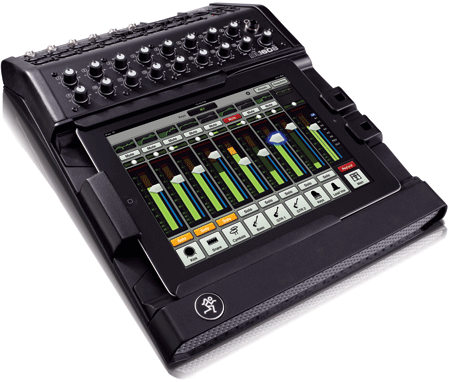 I connected a combination of analog line level track stems from Pro Tools HD as well as a collection of live microphones. I found the Onyx microphone pre-amps sounded clear and the mixer to have loads of headroom--nearly impossible to overload. There is global on/off +48-volt phantom powering but I'd like to see it switchable in groups of four or eight channels.
The iPad's Master Fader App stores all settings (its current state): fader levels, mutes, channel names, channel icons, processing settings, output bus levels, effect setting, send levels, and preset modifications as nameable Snapshots within folders called Shows. A Show has up to 99 snaps in sequential order and switching (Recalling) between snapshots is instant and perfect for tweaking several different FOH/stage monitor mixes for each song or every section (verse, chorus, bridge etc.) of the same song.
This is a brilliantly thought out-live mixer system--for example, when monitoring your stereo mix via the powerfully loud headphone amp, any track in solo is only heard via the phones after the EQ, noise gate and dynamics processing available on every channel and bus output.
The DL1608's stereo bus and all six auxiliaries have 31-band graphic EQs and there are great sounding stereo reverb and tempo tapped delay effects with 16, full-sized send faders on their own layer for each channel. The Mackie DL1608 16-Channel Digital Live Sound Mixer is $1,249.99 MSRP. Way more than this briefing is at: www.mackie.com/DL1608.
---
Web Page design is copyright © 2012 by Barry Rudolph