Mod-Kit DIY The Tea Philter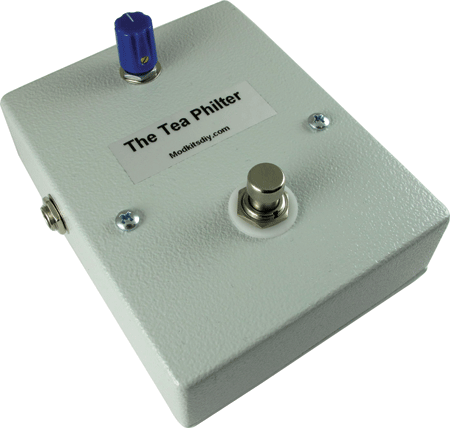 Having built one of MOD™ Kits DIY pedal called The Verb (a warm analog-like reverb), I know that The Tea Philter stomp pedal is a great way to save money and not have to carry an extra wah-wah pedal to do the same thing. MOD Kits DIY's newest do-it-yourself pedal kit produces a fixed wah tone and allows you to "set and forget it" and not be bothered with finding the exact "sweet spot" every time you need some good lovin' tone.
Every guitar and wah combination has a sweet spot that is perfect for lead and/or chord work and, with The Tea Philter pre-set anywhere from mid-range tones to thick lows, you'll get right to it--instantly.
The Tea Philter uses your own point-to-point wiring and, like all their pedals, has easy-to-follow instructions for building it within a few hours. Just as with the Verb pedal, I liked that are lots of pictures and helpful suggestions and the old-fashion terminal strips are large and are easy to solder component to even for beginning electronic kit builders. In addition, all the metal enclosures come pre-drilled and all necessary parts are included.
So with minimal soldering skills, a few small hand tools, soldering iron, a 9-volt battery (or optional AC adapter) and a couple hours of your patience and you'll have a The Tea Philter. It's $31.95 and for a complete listing of kits available from MODTM Kits DIY, visit: www.modkitsdiy.com.
---
Web Page design is copyright © 2012 by Barry Rudolph