Planet Waves American Stage Cables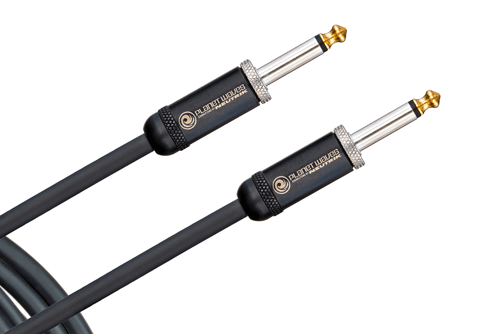 Here's a concept: musical instrument cables NOT made outside of the US! Planet Waves American Stage instrument cables are designed to convey the actual sound of your instrument reliably and are built to last. I found them to be neutral in sound: they do not add or subtract from the sound of your guitar or bass.
The oxygen-free cable stock uses a 22AWG copper center conductor and the 95% tinned copper braid along with the conductive PVC under-jacket improves handling noise and the rejection of electromagnetic interference--radio signals--solar flares--bad vibes. American Stage Cables use all metal Neutrik plugs that feature their patented Geo-Tip that compensates for the wide differences in the mating jack's arm length present in all 1/4-inch jacks vintage to modern.
The gold tip of the Geo-Tip has an especially-designed shape that not only guarantees the tip connection to be of a super low electrical resistance and therefore a better sound, but the plug cannot inadvertently "pop out" because it is perfectly locked into the jack.
I liked that these new Neutrik plugs are shorter in total length and have rubber gaskets that compress (when plug's jacket is tightened) to prevent moisture from entering their interior. Planet Waves' In-Line solder process is akin to welding--it uses specially formulated RoHS-compliant solder to permanently bond the wire to the plug's terminals. To prove it, I unscrewed the plug's crush-proof sleeve (with a wrench) and found the only way the cable is coming off is by knife!
Planet Waves American Stage Cables come in lengths from 10ft to 30ft and sell in a range of $39.99 to $69.99 MSRP. Learn more on these at: Here!
---
Web Page design is copyright © 2012 by Barry Rudolph