Propellerhead Balance with Reason Essentials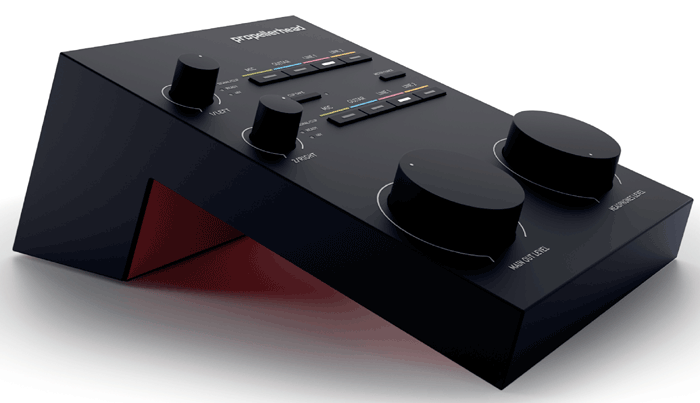 Propellerhead Balance is an analog audio monitor controller/interface that connects to any computer over USB 2.0 and comes with Reason Essentials software. Far from a lite, "crippled" version, Reason Essentials is an introduction to Propellerhead's top-of-the-line Reason 6, the latest version of their popular music creation software. Reason 6 now adds the ability to record any number of mono and/or stereo audio tracks along side your song sequence in Reason.
Whether you're a veteran Reason user or a total newbie to the music/song creation process using computers, Propellerhead Balance with Reason Essentials is a complete recording and production package in one--an "elegant" way get started creating music within minutes after opening its box.
I installed Reason Essentials in my MAC Westmere 8-core computer (OS ver 10.6.8) and then connected Balance to a dedicated USB port on the computer. Check: www.propellerheads.se/products/balance/ to check computer requirements and all other specs. Authorization and installation went perfectly--the Balance unit itself contains the Propellerhead Ignition key (authorization dongle) for RE and that's a good thing--I've long since run out of free USB sockets.
For reference, I tested Balance in Reason 6, Logic Pro 9, Pro Tools 9 and 10, and Cubase 6.0.5. Balance works with all of them perfectly--it's compatible with Core Audio on the Mac and comes with ASIO and WMD drivers for Windows PCs. Balance is a 24-bit interface and works up to 96kHz sample rates.
Balance (along with Reason Essentials) solves two nagging details that have confounded and discouraged many otherwise musically creative people: connecting, reconnecting and configuring microphones, instruments, synths, monitor speakers, headphones; and getting "proper" recording levels without distortion.
For connecting Balance to your instruments and mics, there are a total of eight, pro analog source audio inputs on its rear panel--you can leave them connected all the time if you like--saving you from substituting--unplugging one mic or synth for another. Balance is a two inputs/outputs (stereo) interface but you may select any two of the source inputs from any of the eight, cool-looking lighted buttons on the unit's sloped front panel. Yes, because Balance works with eight mono sources instead of four combined stereo sources, you can mix and match inputs! A stereo recording would require two mono inputs for the left and right channels.
I think the connector choice and impedance/level specifications of the eight source inputs are very well thought out! They are: two XLR microphone inputs with +48-volt phantom power (with on/off switches on the back panel); two high impedance (1megOhm) guitar/bass 1/4-inch inputs with attenuator pad switches; and four, 1/4-inch balanced line inputs.
Other front panel details I find valuable are: two record level control knobs (with detents), a Mute/Direct monitoring button, and LED indicators for signal clip, record ready, and phantom power on/off.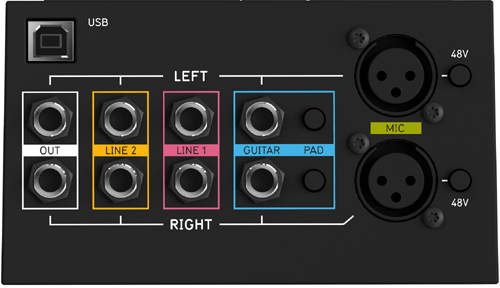 I liked that the two record level knobs are "calibrated" to be in roughly at the same positions when I switched from a direct input coming in on Input 1 from my Fender Strat over to Input 1 XLR mic--assuming nominal levels from both these sources. Even as recording engineer myself, in the "heat" of a creative moment (rare for me), I sometimes forget to turn down (or mute) the input record level when switching sources.
Monitoring facilities on Balance make hooking up a set of powered stereo speakers and headphones foolproof. On the back panel are two balanced (L/R) TRS main output jacks and there is a single headphone jack mounted on the front, right side of the unit. I found the headphone amp provided ample level to my Shure SRH-940 headphones (42-ohms) and the main outputs have plenty to drive my PMC AML2 monitor speakers. I do think a second headphone jack for "sharing" would make a good addition.
The front panel finishes with the large and easy-to-use speaker and headphone volume controls, a Mute/Direct monitoring button, a Meter/Tuner on/off button (that "talks" to a very handy and musical features built into Reason Essentials), and Clip Safe--Propellerhead's new technology for setting recording levels without distortion.
When Clip Safe is enabled from Balance; Reason Essentials indicates any clipped areas (over recorded and distorted) with red lines above the audio clip. A small [CS] icon also shows up and, when you click on it, the clip is healed. Clip Safe heals audio files non-destructively.
Balance sells for 500 Euros and for much more about the entire Propellerhead line, check out: www.propellerhead.se!
---
Web Page design is copyright © 2012 by Barry Rudolph