BOSS VE-5 Vocal Performer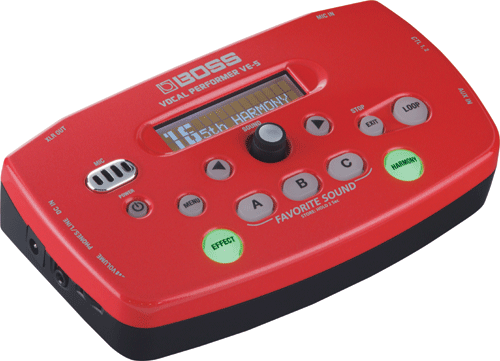 The little VE-5 Vocal Performer is a mobile personal effects processor and phrase looper for vocalists, rappers, DJs or any performer looking to call up cool vocal treatments instantly from a live stage. Its six vocal effects are borrowed from Roland's VE-20 stomp pedal unit and are: Reverb, Delay, Double/Harmony, Dynamics, Pitch Correct, and Tone/SFX.
The VE-5 is battery-powered (comes with 4-AAs) and comes with mounting bracket clamps to attach it to any size mic stand. Unlike the VE-20 pedal, this puts the unit's backlit LCD display and controls right up "in your face" for the adjustment and recalling of any of the 50 memory locations each with completely programmable chains of effects. The included 30 factory presets are great starting places to build vocal effect chains from and store them.
The VE-5 will auto-correct a singer's pitch either chromatically or by key and scale. It is capable of auto-tune effects along with other treatments simultaneously; their settings and wet/dry balances are programmable and storable in user memories. I liked the Harmony button that lets you drop in pre-determined harmonies or special effects at will during live performances. This is in addition to any of the other effects you already have running in a preset. The Effect on/off button is for instant bypass.
The VE-5 is a mono only microphone level unit and connects between your favorite stage mic and the FOH or recording mixer just as any microphone would. There is switchable +48-volt phantom powering and also a built-in microphone that mutes when your stage mic is plugged into the unit's XLR input.
The built-in mic and headphone mini jack with volume/line output level control are great features for practicing and working out vocal effects, harmony parts or building vocal phrase loops without any other gear required. For working out harmonies, I used a backing track playing on my iPhone connected to the VE-5's Aux in jack with the included stereo mini cable. The voice/track mix plays mono out of the VE-5 but in stereo on my phones. A thoughtful touch!
For live performances, I liked the phrase looper's simple operation; it works like "sound-on-sound" recording--add layers of vocals with every repeat of the loop. The looper function holds a loop up to 38-seconds long and, when in record, the new part sounds dry but adds the effect you have on when playback begins. Up to two optional BOSS footswitches--two FS-5Us or a single FS-6 dual can be connected for hands-free control of effects or loop functions.
The BOSS VE-5 Vocal Performer is about performance and offers a way to personalize, practice and perfect your stage vocal effects and store them for instant recall during your live stage show. It sells for $299 MSRP and much more about it check: www.roland.com/products/en/VE-5/.
---
Web Page design is copyright © 2012 by Barry Rudolph