Sennheiser XS Wireless Series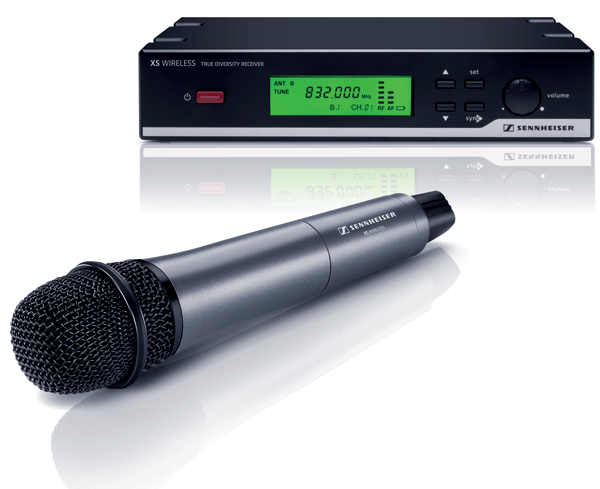 Sennheiser has the new XS Wireless Series with a long list of features essential to artists, musicians, public speakers--anyone in front of an audience seeking good sound from a reliable wireless system and at an affordable price. The entry-level XS Wireless series uses wideband FM analog technology to transmit audio and comes in five application-specific variants. There are two vocal handheld models, an instrument system for guitar or bass, and two presentation sets with clip-on or head worn microphones. All systems are offered in five different frequency ranges (including two for the US market), each covering a 24 MHz frequency range between 548 and 865 MHz.
All XS systems include the EM 10 true-diversity receiver, capable of tuning up to 960 different UHF frequencies and loaded with 8 frequency banks each with up to 12 factory-preset channels. The EM 10 is a half-rack space unit, powered by an included external power module. The receiver offers both XLR balanced and 1/4-inch unbalanced output jacks with a rear panel switch for either line or microphone level operation. The EM 10 remotely senses the battery strength of the connected wireless transmitter, which is displayed on both the receiver and transmitter's easy-to-read LCDs--double redundancy usually found in far more expensive wireless systems.
Since the Sennheiser XS is a frequency-agile system, it includes an intuitive scan function that quickly locates an unused frequency. Pressing the transmitter's sync button relays the selected frequency to the transmitter for fast, convenient system setup. In practice, the scan and sync functions can be used to change frequencies "on the fly", in the event your current frequency becomes unusable.
I evaluated the XSW 65 system comprised of the EM 10 and the SKM 65 handheld transmitter, which features a pre-polarized (electret) super-cardioid condenser capsule. Although the windscreen unscrews for cleaning, etc., the XS series does not offer field-interchangeable mic elements. If Sennheiser's popular e 835 dynamic cardioid capsule is a better "fit" for your voice, choose the XSW 35 system, which includes the SKM 35 handheld transmitter with e 835 capsule.
There are four mic gain positions: -30, -20, -10, 0dB all switchable on the mic itself. The mic is rated at 150dB SPL and all gain positions sound identical. The SKM 65 is both sensitive enough to capture all the nuance of the quietest Emo moments yet able to withstand the loudest of Screamo assaults--there is no way to distort this mic. I found it also to be very directional--exactly what's required to suppress feedback.
I recorded vocals and narration (voice-overs) into Pro Tools 10 HD using the SKM 65 and found the sound to be first class. I found no sonic advantage between using the mic level or line level outputs. I normally use the line level choice to conserve mic pre-amp channels--a good idea for small mixers with limited mic inputs.
Up to 12 XS Wireless systems can operate simultaneously at the same venue assuming no interference or frequency coordination problems outside of your control. Any FOH mixer will tell you that easy and fast access to the EM 10's front panel output level control is a great feature for quickly resetting high/low wireless mic levels amongst a stack of wireless receivers!
In my studio's locale, there are several sources of RF interference--local cell towers, a police station's antennas etc.-- I had no problems at all. The EM 10's squelch operation worked excellently during my 400-foot max distance test--when the transmitter's 10mW 548MHz signal began to fade, the squelch mutes the radio signal from the transmitter and prevented long blasts of radio noise.
XS Wireless includes a few useful features to prevent embarrassing failures during a singer's American Idol star moment: both the body pack and handheld transmitters have up to 10 hours of battery life from two fresh alkaline AA batteries; the design, operation and location of the handheld's lighted power switch and the recessed mute button prevent accidental audio loss; and the batteries are easy to change yet locked in place preventing them from becoming disconnected and falling out of the mic.
Weighing in at 240 grams and 250mm in length, the SKM 65 has the 'correct' feel, balance and modern-look any singer, MC or DJ will immediately love. On so many levels beyond its excellent sound, price point and professional styling, the new Sennheiser XS is a big winner.
Check: www.sennheiserusa.com
---
Web Page design is copyright © 2012 by Barry Rudolph