Shure SRH1440 Open-Back Headphones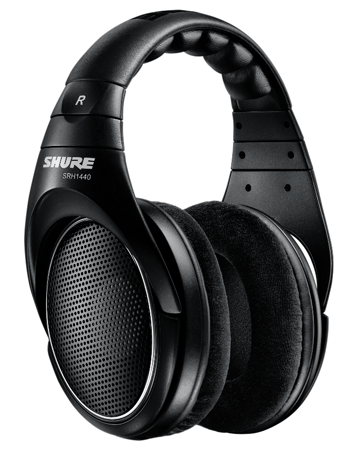 The SRH1440 (reviewed here) and the SRH1840 are Shure's first open-back circumaural, professional headphones designed for critical listening such as mastering and mixing--a job usually reserved for super expensive and fragile audiophile headphones.
Unlike Shure's closed-circumaural pro SRH940 headphones, which cover the entire ear and disallow any sound escaping or intruding, these new open-back models cover your ear too but are more akin to listening on near-field monitor speakers with their open sound. I thought the open-back feature might preclude these from being useful for overdubbing where headphone spill is verboten but I found that, even in a quiet room, the sound leaking out of them is minimal--even with extreme (and dangerously) loud headphone volume levels. So home listening with people sleeping in the next room--no problem--in the studio for super quiet Foley recording (footsteps, clothing, body falls etc.) where max microphone gain is used to pick up these quiet sounds, maybe not.
The SRH1440 have 40-mm diameter neodymium drivers and have a sensitivity rating measured at 1 kHz producing 101 dB SPL with just .001 watt signal put into them. This 37-ohm impedance and sensitivity measurement, I found caused them to require lower volume settings from my headphone amp than my other pro headphones. Higher efficiency means longer battery life if you use them with your iPhone/iPod or any other battery-operated music player.
The 1440s are slighter lighter weight than my 940s--both weigh under 1lb each. I find them very close to each other in sound but the 1440s feature an extra set of connecting cables as well as a replacement pair of ear cushions. Their 6.9 ft. cables are split into two separate wires (L&R)-dual-side detachable cable with Kevlar® reinforced jackets and gold-plated MMCX connectors--something I'm not used to with pro phones and a gold-plated 1/8-inch stereo mini-jack adapter, storage case, replacement set of velour ear pads, and extra cable are included. The SRH1440 sell for $399 and the SRH1840, $699.
Visit: www.shure.com.
---
Web Page design is copyright © 2012 by Barry Rudolph