Softube Summit Audio Grand Channel Plug-in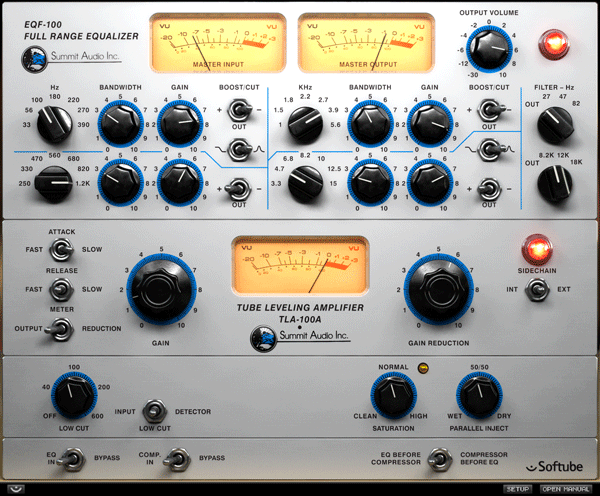 Softube's Summit Audio Grand Channel is a plug-in recreation of Summit Audio's famed TLA-100A opto/leveling amplifier (compressor) and their EQF-100 passive two-band equalizer together in a single channel strip. It's available in AAX Host & DSP/RTAS/VST/VST3/AU plug-in formats and as either mono or stereo versions. The hardware units proved to be a big favorite with me over their two-decade history: they just sounded great but I always wanted more than just one pair of them!
Significant is the instant routing feature that connects either the TLA-100A before or after the EQF-100. This pre/post signal chain option is a rarity in hardware outboard and makes comparing which is better for a particular use difficult. Actually a big pain because you have to reconnect/connect patch cords quickly to compare. Apart from readjusting a few levels, it's a flip of the switch with Softube's Summit Grand Channel.
I liked using the stereo version the EQF-100 across the stereo mix bus as a 'faux' mastering touchup on demos that need a shinier sound. As in the hardware unit, the Grand Channel's TLA-100 is exactly like Softube's TLA-100 and always works smoothly and consistently with a choice of three attack and release times (Fast, Medium, Slow) to get it set just right. The same Saturation, Wet/Dry and switchable low cut filter features on the standalone TLA-100 are copied in Softube's Summit Grand Channel version.
You can buy both the Grand Channel and the standalone EQF-100 at the Softube.com at an introductory price (through Aug 21, 2012) of $244.99 and $144.99 respectively. For previous owners of the Summit Audio TLA-100A plug-in there is an upgrade path to the Grand Channel Bundle. Check www.mvproaudio.com for current pricing and dealers. www.softube.com.
---
Web Page design is copyright © 2012 by Barry Rudolph