SongCraft Station All-Wood Series Studio Desks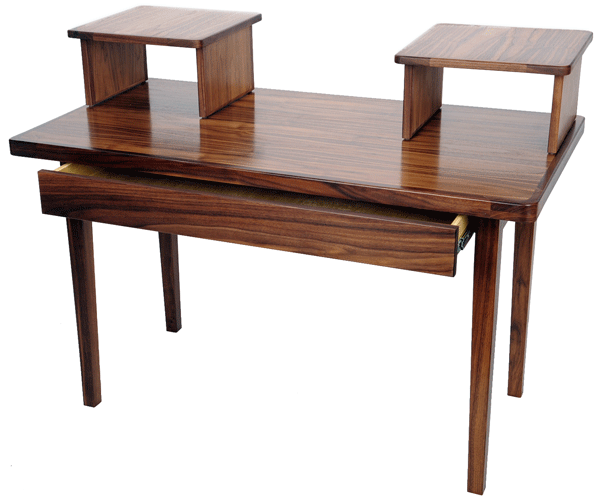 The new Songwriter, Composer, and Grande models are constructed from hardwoods and Grade-A plywood veneers. The new All-Wood Series desks are lighter weight than the company's Standard Series hardwood desks and are also available optionally with hand-rubbed finishes applied using the French polishing technique to bring out the wood's grain and beauty.
The SongCraft Station Home Studio Desk line is a quality, pro audio desk designed for smaller home studios with limited floor space and when you'd want the desktop to blend with your other home furnishings or maybe your grand piano's finish. That's the case here in my Tones 4 $ Studios here! My 80-year Schiller baby grand has a dark toned finish and would match perfectly with the rich finish of the desk pictured here.

All Standard Series models are made of 3/4-inch thick MDF board, and come with rock maple tapered legs painted black, two 15-inch square L/R monitor speaker plinths (stands), MIDI controller keyboard slide-out drawers, and your choice of hardwood trim on both the desktop edging and monitor stands.
Largest in the SongCraft Station Home Studio Desk line is the Grande measuring 64.5-inches wide; its 55.5W x 21D-inch keyboard drawer holds either an 88 or 76-key controller. The Composer model is 53-inches wide and its 44W X 21D keyboard drawer holds up to a 61-key keyboard. Both these desks are 27.5-inches deep and 34-inches high.
At just 48-inches wide, the Songwriter desk is 25.5-inches deep and 31-inches high and comes standard with a pair of monitor stands, a decorative wood utility drawer plus hardwood legs that match a choice of wood trims. Custom size monitor stands are available upon request.
Woods available now are cherry, walnut, and mahogany and most models are ready to accept their Desktop Cable Cabinet as an option. This feature organizes and hides unsightly wires and cables and provides power sequencing for up to eight pieces of studio gear.
SongCraft also offers setup and delivery if you live within 300 miles of their offices including: New York, Washington D.C., Philadelphia, and Baltimore. Check at for more information and pricing: www.songcraftstation.com.
---
Web Page design is copyright © 2012 by Barry Rudolph