Sonoma Wire Works' GuitarJack Model 2
The new GuitarJack Model 2 is out now and it builds on the original GuitarJack Model 1. If you've purchased the original before July 30, 2011, go to: www.sonomawireworks.com/guitarjack/upgrade/ for a special upgrade path and price.
Like the original, GuitarJack Model 2 is a premium quality audio interface for connecting a wide range of instruments, microphones or any analog audio hardware source to iPhone 4, iPad 2, iPad, and iPod Touch (2nd, 3rd, and 4th generation) iOS devices. GJ2 plugs into and is powered via the docking port of those popular products and turns them into professional audio tools.
The new GJ2 is beautiful with its sleek, all black-chrome aluminum case (not easy-to-crush plastic) and brushed metal sides--it matches my new iPhone 4S perfectly. Like the GJ1, there are both 1/4-inch instrument and 1/8-inch stereo mic/line inputs and the newly designed Control Panel allows you to configure each input separately or both inputs together.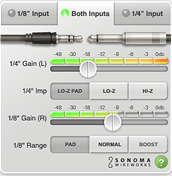 GuitarJack 2 Control Panel

On the 1/4-inch input, select either low impedance for line levels with or without a 12dB attenuator pad for handling hotter levels, or use the high impedance mode for guitar and bass. The 1/8-inch input also has the attenuator pad choice plus normal and boost modes for gain ranges up to 84dB.

Having precise setup and control over two separate inputs means you can record any combination of any two sources at the same time making the GuitarJack Model 2 and iOS device a great system for songwriters to record song demos anywhere and, most importantly, any time the creative mood strikes.

Other features include: the 1/8-inch stereo analog line/headphone output has tons of level to drive any pair of headphones off your head and the new GuitarTone and the awesome six-band, Taylor EQ Apps are now free. FourTrack ($9.95) and the new StudioTrack multi-track DAW app for iPad only ($19.95) all work great with the new GJ2!

Sonoma Wire Works' GuitarJack Model 2 sells for $149 and there is much more at: www.sonomawireworks.com/guitarjack/







---
Web Page design is copyright © 2012 by Barry Rudolph