SoundRadix Surfer EQ Plug-In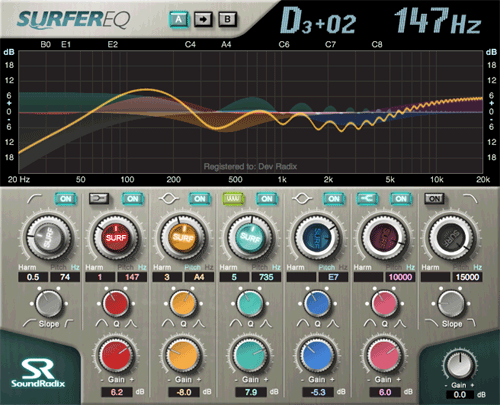 SurferEQ is an innovative, pitch-tracking equalizer plug-in for Mac & PCs DAWS that support RTAS, VST and AU plug-in formats. SurferEQ allows any (or all) of its five parametric bands and two shelving filters to "track" the center frequency (or frequencies)--the fundamental pitch or their desired harmonics--of a musical instrument or vocal as they instantaneous and constantly change throughout music performances.
SoundRadix calls this ability "surfing" and it's switchable in/out on your choice of any single or any combination of all seven sections of this amazing plug-in. The EQ and filters use new and original algorithms and preserved the energy and size of the original recordings very well in my preliminary uses in my Pro Tools HD 9 and Pro Tools 10 mixing work.
Furthermore, the plug-in instantly displays the current and exact note(s) it is tracking and shows both its frequency (in Hz) and musical note including the number of cents it is sharp or flat. The plug-in's GUI also has a large 20Hz-20kHz frequency spectrum chart that continuously indicates the amount and shape of the applied equalization and/or filtering.
The implications of using such a tone shaper are many with some yet to be discovered! But know there is now no need to use a certain equalization setting that is a "compromise" between being highly beneficial in one moment and detrimental in the very next.
Typically, when brightening a dull lead vocal recording, boosting high frequencies can sound euphoric overall until the singer emits a loud "S" sound requiring additional corrective measures such as a de-esser or automating a corrective EQ change for those moments. Besides making more work for the recording engineer/producer/music mixer, all this additional processing usually downgrades audio quality. SurferEQ is not a de-esser but it is possible to brighten certain harmonics without exacerbating sibilants as much using its unique harmonic filter that controls the complete harmonic series using only a single EQ section.
For a limited time, SurferEQ sells for $129 as a thank you to our early supporters plus SoundRadix Auto-Align users can purchase SurferEQ for $99. Available only at www.soundradix.com.
---
Web Page design is copyright © 2012 by Barry Rudolph