Steinberg CMC Cubase Controllers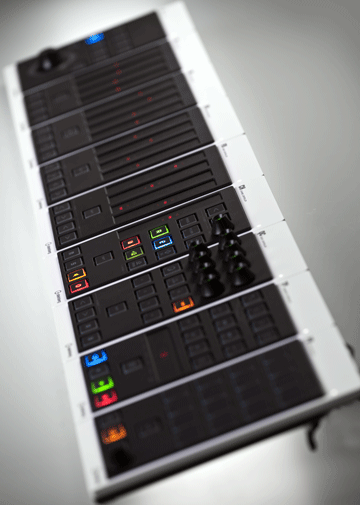 Steinberg's six CMC Controllers are a family of futuristic looking USB-powered controllers with pads, knobs and faders that communicate to either Steinberg or Nuendo DAW systems. This is a modular controller system that is expandable to handle the specific needs and workflow of your music production process and style yet completely malleable to grow and expand in response to change.
Each of the CMC units take up the same 4 X 7-inch real estate on your desktop, have a flip-out stand to angle them upward if desired, and easily joined together using the included joint plate. Five of the six CMC controllers sell for $149 while the CMC-CH is $199; both the CMC-QC and CMC-PD units also work with any DAW.
The CMC-CH Channel Controller might be your first CMC purchase because it provides hands-on access to VST instrument settings, solo and mute, bypass EQs, sends, inserts, channel freeze, panning etc. The cool-looking LED-based touch fader controls the volume level while displaying the fader position.
If you're a "mix-a-lot-in-the-box" music mixer and would like to give your carpal tunnels a break from the "tyranny of the mouse", get the CMC-FD Fader Controller with four touch faders and LED-based metering for simultaneous control over four channels. Up to four FD units can be combined together for 16-channels of fader, solo and mute functionality.
My favorite is the CMC-QC Quick Controller because it is freely configurable to your exact process and needs; it comes with an editor to map any of its 13 buttons and eight rotary encoders in three different modes: EQ, Quick Control and MIDI.
On-stage DJs would love the CMC-PD Pad Controller because it has 16 backlit pads that change color in response to how hard they are hit and triggers MIDI notes or selects preset volume response curves.
DAW transport control comes with the CMC-TP Transport Controller with its 17 buttons; a touch slider to jog or shuttle through the project, tap tempos, scroll, zoom etc. Lastly, the CMC-AI Cubase Advanced Controller fully enables and configs Steinberg's universal AI Knob to control any control element in Cubase with additional function buttons to control parameters.
The modular approach works: buy want you require or need and don't pay more for feature sets you don't need. But if requirements change, know you can always add. Check: www.steinberg.net.
---
Web Page design is copyright © 2012 by Barry Rudolph