TASCAM iM2 Stereo Microphone for iPads/iPhones /iPod Touch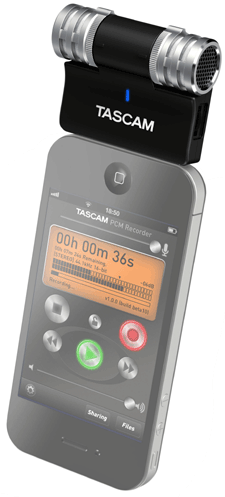 The iM2 is a pocket-sized stereo microphone that plugs right into the dock connector at the bottom of an iPad, iPhone, or iPod Touch. And these are not low-end, toy-like mics either--they are the same pair of condenser microphones as in TASCAM's best-selling DR-series recorders.
By turning the iOS-device upside down (as pictured), you'll have the freedom to swivel the microphones over a range of 180-degrees to get the best possible sound pickup. And rather than depend on the iPhone's built-in mic pre-amp and surrounding circuitry, the iM2 has its own stereo mic pre and it's own analog-to-digital converter for recording CD-quality digital recordings (up to 44.1kHz/16-bit linear PCM) if desired. These two important features mean (among other things) that sound levels up to 125dB SPL are easily handled, so there will be no more distortion when you try to record live shows, band rehearsals, or real drum kit loops.
To assist in all recording is a built-in stereo limiter with an in/out bypass switch located on one side of the iM2. There is also a recessed microphone level control knob placed on the opposite side.
The iM2 is powered via the dock connection on the device but a convenient mini-USB jack is provided for connection to your computer. This powers the iM2 as well as keeps your Apple device charged and/or for longer recording times without battery life concerns. If no computer is available, use TASCAM's PS-P515U power adapter.
The iM2 sells for $79 and is compatible with iPhone 4, iPhone 4S, iPod Touch 4G, iPad, and iPad 2.
Check: tascam.com/product/iM2/.
---
Web Page design is copyright © 2012 by Barry Rudolph