TC Electronic LM6 Radar Loudness Meter Plug-In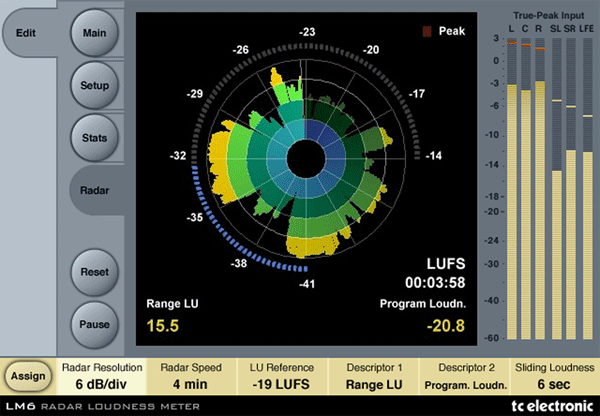 The LM6 Radar Loudness Meter plug-in is TC's latest loudness measurement tool and operates in DAWs supporting Audio Units, RTAS, AAX Native or VST plug-in formats.
Loudness--whether something is too loud is a subjective judgment, contextual and varies with each individual. TC Electronic has been on the forefront of doing the science, developing standards and designing a long line of hardware tools to measure accurately, audio loudness over time. The LM6 Radar Loudness Meter plug-in, now for any DAW platform PC or Mac, displays true-peak warnings and true-peak bar graphs and conforms to all major broadcast standards.
LM6 measures up to 5.1 channels of audio program loudness and provides a graphical histogram of their dynamic range over a pre-determined time period from 1 minute to 24-hours. Its hypnotic circular radar display depicts loudness in color-coded shapes and as well as traditional bar meters. Broadcasters use LM6 or one of TC's standalone hardware loudness meters to monitor, measure and log their program's average loudness in compliance with new government mandates now law in Europe.
In the US, the Federal Communications Commission is charged with implementing rules that require commercials to have the same average volume as the programs they accompany. The Commercial Advertisement Loudness Mitigation (CALM) Act will go into effect on December 13, 2012.
In Pro Tools 10, I use the AAX version of the LM6 plug-in across my stereo bus to track and locate peaks (overs) when mixing music--even when LM6 is closed. During song playbacks or while working on shorter song sections, since LM6 is always measuring, it provides a time reference along with level information. The TC Electronic LM6 sells for $599 and there are also cross-grade and multi-user pricing. Authorization by iLok2 is required and there is more at: www.tcelectronic.com/lm6.asp
---
Web Page design is copyright © 2012 by Barry Rudolph