Tech 21 Boost RVB Reverb Pedal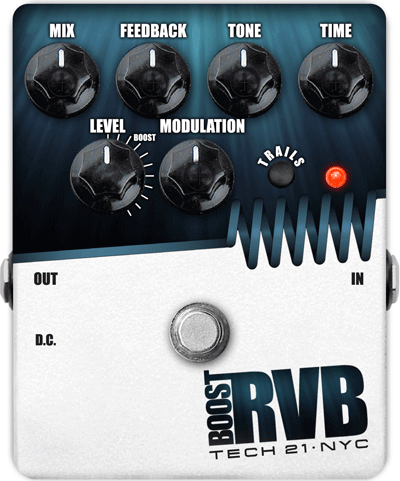 Tech 21 has updated their Boost RVB analog reverb emulator pedal with the Modulation control (it replaces the Rumble knob) that subtly varies the length of pre-delay of the reverb for additional randomness. This subtle variation makes the reverb's sound closer sounding to natural reverberation.
Like the entire Boost Series pedals besides a new look, the RVB features up to a 9dB level bump if you're looking for a clean boost for solos and standouts that pop.
The RVB pedal has a continuously variable reverb (RT60) Time control that ranges from short, modern-sounding reverb treatments to longer, old-school style "tanks." The Mix control blends any reverb from 100% dry to 100% wet plus the Feedback, Tone and Level controls all contribute to precision when dialing in any reverb you'd like. Also when switching into bypass mode, the Trails function allows the reverb tail to decay out naturally or toggle Trails off to stop the reverb tail instantly.
The Boost RVB is capable of emulating reverbs such as springs, plates and natural room/hall ambiences. Designed and manufactured in the USA, the updated Tech 21 Boost RVB pedal sells for $245 MSRP MAP is $189.
For much more go to: www.tech21nyc.com.
---
Web Page design is copyright © 2012 by Barry Rudolph