Voodoo Lab Pedal Power Digital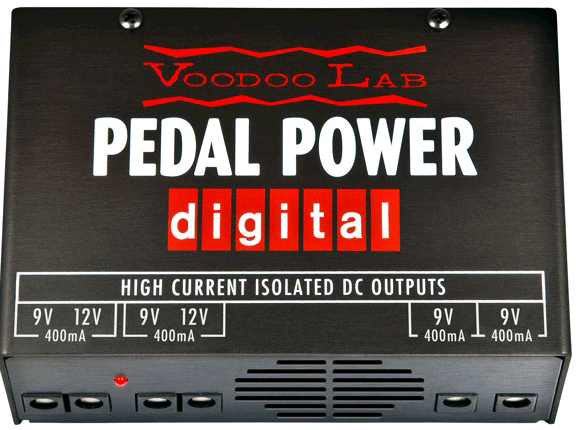 Pedal Power Digital is a compact all-analog, pedal board power supply designed for the higher current demands made by modern digital guitar pedals. I am starting to find that most of the new pedals I get to review are major battery eaters! With typical use or leaving some of them turned on all the time (because I can), I can go through and 'flatten' a nine-volt in hours!
Pedal Power will simultaneously power up to four high-current, digital pedal effects such as the excellent ones from Eventide, Line 6, TC Electronic and Strymon. But know that Pedal Power Digital is also compatible with all 9-volt pedals--so in a sense, you become future-protected by owning a PPD if you ever buy one of those new-fangled, power-hungry effect boxes.
Pedal Power Digital provides four isolated 9-volt, 400mA (nearly a 1/2-amp each) output jacks with two outputs switchable to 12-volt operation. Pedal Power Digital features an analog, linear DC voltage regulation system with substantial filtering and a custom-made toroidal AC power transformer for the lowest possible hum and noise level. All these tweaky details I mention because the reward is a noticeably improved tone and sound when powering your pedals using this box.
Pedal Power Digital is designed and handmade in the USA and comes with a five-year warranty. It sells for $200 MSRP and comes with a detachable AC line cord and all the necessary cables.
Check: www.voodoolab.com.
---
Web Page design is copyright © 2012 by Barry Rudolph