THR10 Guitar Amp from Yamaha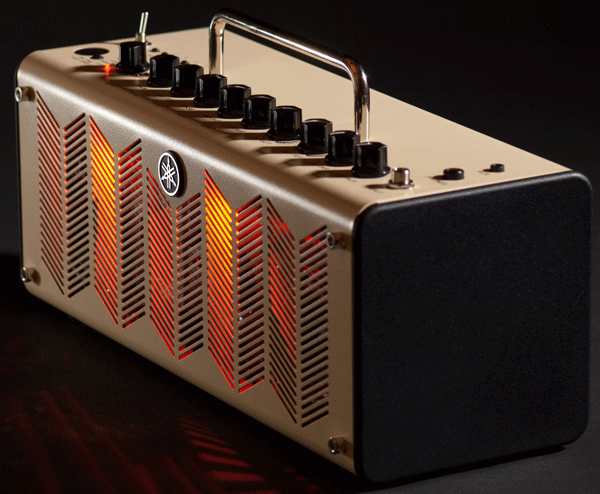 Yamaha has a wholly new product category and it comes in two versions: the larger THR10 (14.15 W X 7.22 H X 5.51-inches D) and the smaller, more modestly featured THR5 (10.66 W X 6.57 H X 4.72-inches D). Both are battery or AC-powered stereo (5W + 5W) guitar amps with built-in USB audio interfaces for recording/playback using your DAW computer. There are five different amp models: Clean, Crunch, Lead, Brit Hi, Modern with the THR10 adding Bass, Acoustic and Flat amp types. There are effects such as chorus, flanger, reverb, tremolo, and delay that all use Virtual Circuit Modeling (VCM) Yamaha's proprietary modeling technology.
Along with your guitar, the audio interface plays your DAW audio out in stereo on the unit's two 3.14-inches full-range speakers. You'll be able to play and record your guitar and monitor your music and your overdubs listening at near zero latency. Both THR amps run about 7 hours on 8 X AA NiMH batteries and both have built-in chromatic tuners.
The THR10 stores/recalls up to five set ups--"snapshots" of all front panel control settings and switch positions. There is a 1/8-inch input jack for music tracks coming from an external source like iTunes or Win Media player--good for just listening and/or playing along. The THR10 has separate volumes for your guitar and the USB/Aux audio and also has Gain, Master Volume, Bass, Middle, Treble controls, an Effect selector, and a tap tempo button for setting delay times.
The THR amps are bundled with Cubase AI6 software for near-zero latency computer recording (assuming you have a modern and fast computer). If you've not "factored into" any DAW computer recording system, learn Cubase!
Since this amp uses VCM, the THR Amp Editor, (download.yamaha.com), lets you edit amp and effect parameters in your computer and build unlimited presets made up of the 5 VCM Amps and 8 VCM Effects. Once you've got a sound and patch dialed in, "push it" back to the amp via the USB 2.0 jack. Lastly, THR's Virtual Tube Illumination (pictured) includes a simulated orange tube glow you can see through the metal speaker grille--very warm and relaxing. For more information, visit: 4wrd.it/yamahaguitars.
---
Web Page design is copyright © 2012 by Barry Rudolph