Zoom Q2HD Handy Video Recorder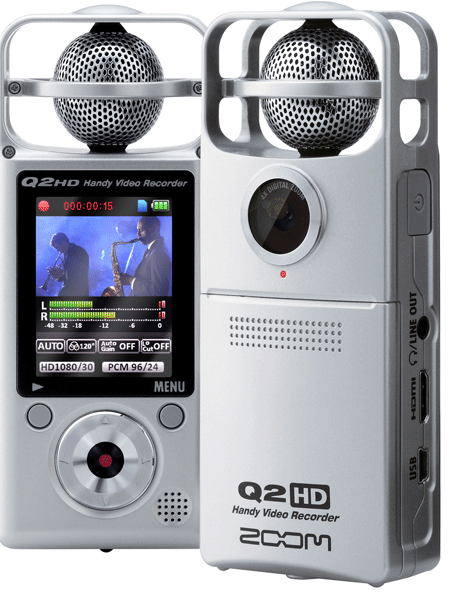 Zoom's Q2HD Video Camcorder ($199.99) records 1080p or 720p high definition video and compresses it while in record mode using the industry standard H.264 video codec. It is about 2/3 the size and weight of their top-of-line, Q3HD camera and has live video streaming and is the first handheld camcorder to offer Mid-Side stereo recording.
While my Zoom Q3 and the Zoom Q3HD Handy Video Recorder models both use the X/Y coincident-pair stereo miking technique and condenser microphones and records sound in super-realistic stereo, the Q2HD allows you to predetermine the exact stereo width of the captured audio sound. You can capture in mono for up close, dry and important-sounding 'talking head' news reporter style all the way up to super-wide (150-degrees) extreme ambience in nearly 3D stereo to comport with the wider image aspect ratio of 720p and 1080p HD video.
If you're concern about stereo audio quality, know that the Q2HD is capable of recording stereo audio up to professional 96kHz/24-bit quality in an uncompressed .wav format as well as all the different data compressed rates of AAC from 320kbps to 64kbps. The choice is yours but higher res audio and video require more SD Card space of course. I like to record in full resolution and then compress to lower resolutions depending on the specific uses--such as emailing short .mp4 video clips.
Like all the Zoom video cameras I've used and reviewed, the Q2HD includes everything you'll need to record videos on SD memory cards that are Class 4 or faster. The Q2HD comes with a 2GB SD card for up to 40-minutes of continuous HD video, their HandyShare editing software (you can freely download the latest version for Mac and PCs) and two AA batteries. There is a stereo analog line out for connecting to your ear buds or headphones to verifying stereo audio width you're recording. And listening in this way is awesome!
There are both mini USB and HDMI output jacks, adjustable microphone gain (even though there is an Automatic gain mode), and the trashcan button for erasing unwanted A/V files quickly.
While in record, the Q2HD will stream your videos directly to your HD television monitor over its mini-to-HDMI cable. Connect the Q2HD its mini USB jack to your computer and use it as the first Web cam with Mid-Side stereo sound pickup for live video streaming. It comes with the driver software (Or downloaded the latest version for Mac and PCs free). The Q2HD is compatible with Ustream Producer, Flash Media Live Encoder, Skype and others.
To increase this system's utility immensely, I would recommend also buying the Zoom APQ-Q3HD Accessory Pack ($39.95). It includes an AC power adapter if your computer's USB connection does not have enough power, all cables, a foam windscreen for outdoor video shoots, collapsible aluminum tripod and padded shell case.
I spent an entire weekend outside shooting in 1080p and 96kHz/24-bit and later on downloaded the video files to my Mac's desktop. The camera (itself) has a basic 'punch n' crunch' editor that is very useful to chop out dead air or just unwanted files to conserve SD card space. This was important when my iPad or computer was not available to move all videos to it and then erase the SD card.
Operationally, I found the same menu navigation GUI as I'm used to on 'old blue' my Zoom Q3 original only deeper because of all the new options available. I like the way the screen rotates to show full width for HD video.
If I had one minor complaint it would be the smaller-sized up/down/left/right cursor buttons (as compared to my Zoom Q3) are little small for me--or maybe my fingertips are lot fatter nowadays. LOL! So much fun in such a small package!
Check: www.samsontech.com/zoom/products/handheld-video-recorders/q2hd/
Check: www.youtube.com/watch?v=IeNP9z_nSeo
Check: zoom.co.jp
---
Web Page design is copyright © 2012 by Barry Rudolph