ZT Amplifiers Junior Amp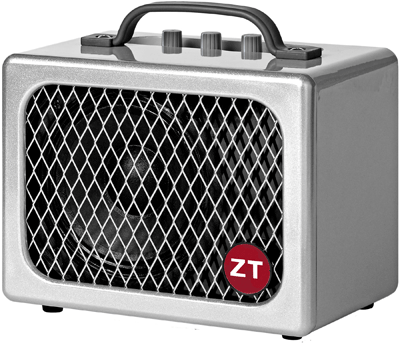 At about 2/3 the size of the original ZT Amps Lunchbox guitar amp, the new ZT Amps Junior at 6.5 x 7.75 x 5.5 inches is just as amazing! Not a practice amp at all, the Junior weighs just 5-pounds and puts out 35-watts RMS/80-watts peak and has just three control knobs: Volume, Tone, and Gain. Instantly hearable (especially for a solid-state amp) is the ability to distort the pre-amp section and use any Volume setting. I found, when my stock Strat pickup switch set to the 2nd position, the amp's Tone knob straight up (said to be its neutral position), and the Junior's Gain control anywhere from about 3/4 up to full, the Junior produced a warm overdriven sound. Results may differ for guitars with higher output or active pickups.
I also like recording the new Junior in the studio with a SM57 aimed midway between the dust cover and the edge of the cone of the five-inch, especially designed speaker. I put the mic as close as possible and got a fat tone yet at a low overall volume level.
The Junior is capable of 117dB SPL at 1 meter and is completely portable just in time for impromptu summertime jams outside. That's because it can be also powered by any 12-volts DC source such as is available from your car's cigarette lighter socket. I also found thoughtful the 9-volt regulated DC output jack (500mA) that'll run a modest stomp pedal board. ZT will soon be offering both a cigarette lighter adapter cable and a battery pack as accessories.
There is a 1/8-inch headphone/line level output jack, speaker on/off switch for practicing on headphones plus a 1/8-inch aux input jack for mixing in backing tracks from your portable music player. But unlike the original Lunchbox, there is no 1/4-inch speaker output jack for connection to an external speaker cabinet.
ZT Amps' Junior retails for $199 and $149 MAP and for more check: www.ztamplifiers.com/products/junior.html.
---
Web Page design is copyright © 2012 by Barry Rudolph