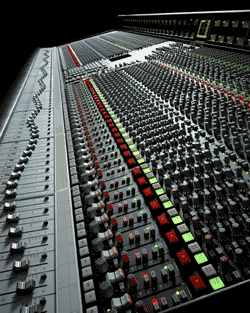 While I was in the rock band, I developed an interest in music recording from listening to pop records and went to see a recording studio near my house. I was interested in what made certain records sound better to me and why. The recording studio was an entirely different universe to me that combined my two interests: music and electronic technology. I reckoned that if I could just "hang out" while collecting unemployment insurance, I could learn about the studio and also figure out my life's future. I started as an gofer/assistant at United Audio in Santa Ana, CA.

The owner, Mr. Hank Quinn, a Jazz drummer, taught me the very first things I learned about recording engineering. When I started doing my own sessions as first engineer AND getting paid, I didn't look back at the aerospace industry...I fell in love with the whole studio life and process.



It soon became apparent that I had to move to L.A. if I was going to progress in the music business. I had heard from Michael Omartian (an multi-talented musician/arranger/producer that recorded demos at United Audio) that a West Hollywood studio had changed ownership and may be looking for help. I started commuting to L.A. when Mr. Lenny Roberts hired me at Larrabee Sound for $50 a week.

I began as a gofer and toilet technician extraordinaire! Eventhough, I had been doing first engineering back in Santa Ana, I had to prove myself all over again. I recall my father being a bit upset that his son, the college graduate, was only making $50 a week! At that time, all wannabe engineers at Larrabee (after paying dues and passing the gofer curriculum) were promoted to cutting song publishing demo acetate discs on the studio's mono disc cutting system. You learned quickly what worked and what didn't when you altered the sound with an equalizer and a compressor. It was a place where you could learn by experiment, watch seasoned pros work, make a few mistakes, and not cause many problems. After cutting a few thousand discs, and with the right attitude, you were ready to assist first engineers. I would setup tracking sessions, move mics, plug in equipment, get coffee for everybody and sweep up.