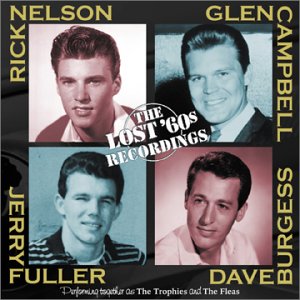 Jerry Fuller was the first actual,"for real" record producer I ever worked with. He was a staff producer for Columbia Records (that later became CBS Records.) Jerry also was a hit songwriter with "Travelling Man" by Rick Nelson and "Lies" by The Knickerbockers to his credit.

I started with Jerry at Larrabee Sound in about 1970. He at first, because of union rules, he had to use CBS engineers even at sessions outside of Columbia studios. He liked working with me! I would try anything, as an experiment, and without hesitation, instead of arguing like some of the older, stodgy union engineers. Eventually, he would hire me on the side and make the union guy sit out in the hallway all day.

Jerry had a whole process or studio method from which he rarely strayed. He would allow so much time for each step in his process. All of his sessions ran like a well-oiled machines because of Jerry and partially due to the existing musician's union rules and procedures. We would record the rhythm or basic tracks for three songs in three hours, usually from 10 am to 1 pm. These would consist of drums, bass, two or three guitars, 2 keyboards (a combination of piano, Hammond organ, harpsichord, Fender Rhodes or celeste), a percussionist who would play shaker, tambourine or congas. All of these would be recorded live in the same room along with a complete five or six piece brass section. The engineer had to have his "chops" together...ready to record at the stroke of the 10 am "downbeat." At 1 pm there would be an hour break in which, I along with an assistant, would clear the room of all mics, sound baffles and instruments and then set up for a string section. This usually consisted of eight to twelve violins, two to four violas and two to four cellos and maybe some string basses. We would overdub the strings for the three new songs from 2pm to 5pm. After a quick food break, we would set up mics for backing singers and record from about 6 to 9 pm. Jerry might sing (if the artist didn't already know the song well) a rough lead vocal to guide the background singers. So at the end of the day we would have three complete backing tracks ready for the artist's lead vocal. Lead vocals, instrumental solos and any additional overdubs would all be done the next day. We would be ready to mix at the end of the second day. On the third day we would mix all three songs in about eight hours.



People ask me how we cut a whole album in two weeks... .
You just read how!



An accomplished singer, Jerry really shined when it came to producing the artist's vocal. I think this fact (along with his track record) got him all the best production gigs with top singers.

I engineered albums for Jerry for artists like: Johnny Mathis (2), Al Wilson (2), Gene Pitney, Jerry Tawney, The Butts Band (Two of the three surviving members of The Doors), and George S. Clinton (who became a successful a film music composer). The first album with Al Wilson yielded my first gold single and #1 record called "Show and Tell" in 1972.

I really owe a lot to Jerry for teaching me certain studio practices I use to this day. Jerry was always interested in the balance or "mix" at all times. Keeping a tight monitor mix is important to me because of Jerry Fuller. He also taught me all about balancing a string section because he always overdubbed strings on all his records. Working with Jerry and veteran arrangers of the day, like H.B. Barnum, D'Arnell Pershing and Al Capps, taught me how the 1st violins, 2nd violins, violas and cellos work in pop record string arranging.

Official Jerry Fuller Web Site



Get Your Jerry Fuller Album Now At Amazon.com!

Get Yours Now At Amazon.com!