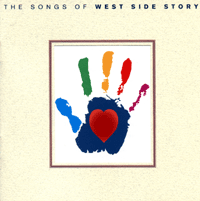 David Pack, the lead singer of Ambrosia, is also a talented songwriter and producer. Every time we work together, it seems as if we garner a gold record or a Grammy Participation award! One of these projects was the recording of one tune for "Handel's Messiah, A Soulful Celebration;" an album of Handel's great work performed by various artists with contemporary arrangements. It won a Grammy in 1992 for Best Contemporary Soul Gospel Album. Patti Austin performed the lead vocal on "But Who May Abide The Day of His Coming" with David and others singing background. In addition, Pack arranged, programmed and played many of the instruments.

The next project was "Songs of West Side Story" on RCA/BMG records. The concept, whole project and execution was the brainchild of David Pack. All the songs of the famed Leonard Bernstein work were re-recorded and each sung by a different popular artist. I got to work with: Little Richard, Chick Corea, Steve Vai, Selena, James Ingram, Michael MacDonald, Tevin Campbell, Lisa Lopes, Paul Rodriguez, Mervyn Warren, Def Jef. The other artists on this massive project were: All 4 One, Patti Austin, Natalie Cole, Phil Collins, Shelia E, Aretha Franklin, Bruce Hornsby, The Jerky Boys, Patti LaBelle, Kenny Loggins, Salt-N-Pepa, Brian Setzer, Wynonna Judd and Trisha Yearwood. As you might expect, trying to arrange and coordinate the schedules of all of the artists involved was a logistical nightmare. That's one of the reasons the album took over a year to produce. I have to say that this project was one of my most fascinating experiences. It also was an engineering challenge with most of the songs going out to 72-tracks. (that's three 24-track tape recorders synched together!)

Another Grammy project David and I worked on was "Tribute-The Songs of Andrae Crouch" It won a Grammy for "Best Pop Contemporary Gospel Album" for 1996. Even though we worked on just one song, it demanded special attention as "Tribute, To God Be The Glory" is Andrae's theme song.

One of Pack's recent projects is a new Ambrosia album that is a compilation of all their greatest hits with the addition of three new songs that I recorded and Alan Parsons mixed. I look forward to working with David again.



Get Your Handel's Messiah Now At Amazon.com!



Get Your Tribute To Andrae Crouch Now At Amazon.com!



Get Your Ambrosia's Greatest Hits Now At Amazon.com!



Get Your Westside Story Now At Amazon.com!