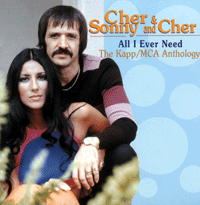 I worked on several recording projects with Sonny and Cher. I was an assistant at the time at Larrabee Studios when it was bought from Gerry Goffin by Jackie and Dolores Mills. Jackie's main engineer, Lenny Roberts, was studio manager and also Snuff Garrett's engineer. Lenny hired me to work at Larrabee in my first Hollywood job as a gofer...for $50 a week. That was in 1970-71...I think.

Snuff was Sonny and Cher's producer and Lenny engineered and mixed all those old hits with S&C and later with Cher alone. My perspective was from the wings as an assistant engineeer. At certain times, only Lenny and Snuff were allowed in the sessions. Because Sonny, Cher and Snuff are all colorful people, I have many remembrances of those times.

Sonny, who worked with, and learned everything from Phil Spector, always tried to be the master of ceremonies at sessions. He was quite entertaining to all of us and for the most part, the musicians loved him. This was in contrast to Cher who was always quiet and very nice to everyone, but preferred to come after the band had gone. She focused on vocals and I sensed some self-consciousness about her singing, even though at the time she and Sonny had a hit TV show and a touring act.

One time, during one of Cher's vocal session, she signaled to Sonny to call a doctor! She was on the mic and Sonny asked "which doctor?" She mentioned some name and Sonny had an assistant make the call. None of us knew what was up...was she sick?...pregnant?...hurting? Sonny didn't seem at all worried telling everyone to continue with the vocal overdub. About a half hour later, in walks a doctor complete with black bag and Cher immediately stopped singing and went into the bathroom with him. He was her dermatologist; she had a zit!

Snuff Garrett was an "old school" producer who surrounded himself with the right people. He always used the best songwriters, best arrangers, best musicians studios and engineers. He was extremely cost-conscience and once told me while we were cutting a "B" side (I was the tape op), "when the tape counter gets to 2:30, cut the tape I don't care what's going on or how good it sounds just cut the tape off"!"



Get Yours Now At Amazon.com!