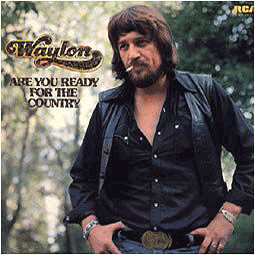 I recorded and mixed the entire "Are You Ready For The Country" album in six weeks with Ken Mansfield producing at Armin Steiner's Sound Labs, LA. True to his "outlaw" reputation, Waylon was about three hours late for the first day's session. I had already gotten sounds on the whole band and sort of just let them "jam" away, passing time in the studio. Waylon entered the studio directly through the side door without coming into the control room first to say "hi" or meet anybody ...including me. When someone yelled that Waylon was in the house, I turned around (as I was not facing the studio and had the monitors dimmed) only to see him seated with headphones on, shouting and flailing away at his acoustic guitar in front of his muted microphones. He was beaming a very angry look directly at me! Of course, I rammed the faders up instantly to open his mics, only to hear him say when he knew the mics were up loud: "Hey Hoss, do you know that you're fuckin' with a legend?" That was the start of a grueling recording schedule and when we finished the album we had a playback party. All the major corporate suits from RCA were there and we played the whole record down. There is one song (I think it was "Jack O' Diamonds") that rushed a lot, about half way through. One of the suits asked about it and Waylon said that "we were on drugs."


Get Yours Now At Amazon.com!

It is with extreme sorrow that we report that Waylon passed away May 24, 2003.

His memorial was held May 31, 2003.