A few years ago Shure made a grand entrance into the studio condenser microphone world with the KSM32. The cardioid only KSM32 quickly became a standard studio tool and was soon followed by the multi-patterned flagship, the KSM44. Now their little brother has arrived! I use the term little brother lightly, as this microphone rivals the rest of the family in both quality and character.

The KSM27 is a side-address, large diaphragm cardioid condenser mic with Class A, transformerless electronics. This is not an electret condenser but a true condenser whose one-inch diaphragm is made of ultra-thin mylar that has been sputtered with 24-Karat gold. The cosmetics of the 27 match the rest of the KSM line in shape, size and color, with the 27 being slightly smaller than both the 32 and 44.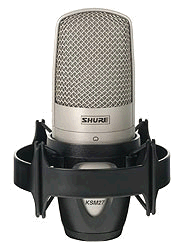 Shure KSM27

Shure designed the KSM27 for typical large diaphragm studio applications such as vocals, featured acoustic instruments, drum overheads and room miking but the high SPL handling ability also allows the mic to be used on kick drums, brass instruments and electric guitar and bass cabinets. Shure recommends providing the mic with 48 volts DC of phantom power as headroom and sensitivity will suffer with lower voltages. However, the microphone will work with voltages as low as 11 volts.

At barely over six inches long and two inches deep, this sharp looking mic easily hides around tom-tom or snare drums. The build quality of the mic is first class, featuring a zinc die-cast housing, gold connectors inside and out and premium quality electronic components. The included swiveling shock mount contains a captive threaded ring that screws onto the bottom of the mic and is supported by four rubber bands for isolation from vibrations. The normally champagne-colored KSM27, outfitted in a custom charcoal finish, can be seen on the desk in front of Jay Leno on "The Tonight Show With Jay Leno" set.

Shure has tailored the 27's frequency response very closely to the KSM44's in cardioid mode. The response is flat from 20 Hz to 5 kHz with a couple of small rises between 5 kHz and 20 kHz. Another similarity to the KSM44 is the very tight polar pattern of the mic at all frequencies. The noise floor is respectably low at 14dB (A weighted) and with the 15 db pad engaged, the mic can handle SPLs up to an ear-shattering 153 dB. Besides the pad, the only other switch on mic's body is a three position switch that selects between a flat response, an -18 dB per octave rolloff at 80 Hz or a gentle -6 db per octave rolloff at 115 Hz. Each of these switch positions can be used as a unique tone shaping equalizer to simply remove low frequency content or to compensate for proximity effect that can make an instrument seem to boomy or dull. Rumbling from wind and mechanical noise below 17 Hz is automatically taken care of by a subsonic filter. The mesh windscreen contains three layers to stop wind noise, but I would still recommend a pop filter for vocal recordings.

In the Real World
My first trial for the KSM27 was a vocal session with a young male vocalist singing a pop demo. After setting levels with an API mic pre and positioning a pop filter I listened to the vocal sound. My first thought was to reach for some EQ and boost a few dB around 2 kHz. I resisted the urge and, after a few moments, I was loving the sound. The vocals sounded full, but not boomy, transparent, but not bright and somewhat mellow, but still dynamic and modern. A vocal recorded on the KSM27 will sit well in dense pop tracks but still stand up on its own in very sparse arrangements. My next vocal session with a female singer performing an aggressive R&B song didn't really suit this mic's sound. In this case to my ears, the mic was just a little too mellow.

Next, I miked up a single guitar cabinet with a single twelve-inch speaker for a song that featured clean blues-rock lead guitar riffs and a delicate arpeggiated counterpart. For the lead riff, the amp was raging and the KSM handled the sound beautifully, providing a pure representation of the guitar tone - one of the best guitar sounds I have gotten in my studio. The clean arpeggiated part came through with great definition and imaging. Another song I was working on required a delicate finger-picking figure on acoustic guitar, but the KSM didn't have enough of the sparkly highs for me. I know a loud, strummed guitar part would sound great with the KSM. The mic showed no audible hiss during quiet passages and the signal never broke up or distorted during very loud passages.

There are literally dozens of new microphones designed to emulate the vintage microphones we all lust after, but Shure has really captured the essence of a great, all-around mic in the KSM27. No single mic will work for every session, but the KSM's detailed and mellow sound will make this mic a very prominent player in your mic collection.

The MSRP of this American-made mic is $575, which includes a foam lined box, a red velveteen pouch, a sturdy shock mount and a mic stand thread adapter. Optional accessories include an aluminum carrying case, foam windscreen, PS- 6 Popper Stopper and a padded, zippered carrying bag. Contact Shure at 222 Hartrey Avenue, Evanston, IL 60202 phone 847-866-2200 and on the Web at http://www.shure.com.
Specs:
Polar Pattern: Cardioid, externally biased condenser capsule
Frequency Response: 20 to 20k Hz
Output Impedance: 150 ohms
Attenuation switch: -15 dB
Phantom Power: 48 VDC (5.4 mA)
CMRR: greater than 50 dB, 20 to 2OkHz
Dimensions: 2.2 inches diameter, 6.15 inches long, 22.6 ounces
Sensitivity: -37 dBV/PA
More Specs:
Self-Noise: 14 dB
Maximum SPL @ less than 1% THD with 2,500 ohm load: 138 dB or 153 dB w/pad
Maximum SPL @ less than 1% THD with 1,000 ohm load: 133 dB or
148 dB w/pad
Output Clipping Level @ less than 1% THD with 2,500 ohm load: 7dBv
Output Clipping Level @ less than 1% THD with 1,000 ohm load: 1dBv
Dynamic Range w/2,500 ohm load: 124dB
Dynamic Range w/1,000 ohm load: 119dB
Signal-to-Noise Ratio: 81dB

is a Los Angeles based engineer/producer and partner in Old Skool Productions.

Books On Microphones And Miking At Amazon.com