Nashville, TN - From July 20-22, 2001 the Summer NAMM Show took over the downtown Nashville Convention Center and the Gaylord Entertainment complex. NAMM shows are always a great time and place to stimulate new business, show off new products, make important announcements and secure new business alliances and opportunities. Although musical instruments are the bedrock of the show, pro audio and recording gear often debuts at NAMM as well—low end project studio gear in particular. For more on NAMM (National Association of Music Merchandisers) check out their site.

So What's New?

3CInnovations Stealth Mics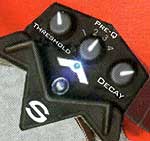 My first choice was from 3CInnovations. (Great ideas! If the web site isn't working quite yet, it wasn't when I tried, contact 3C innovations at 625 Hill Rd. Brentwood, TN 37027 or call 1-888-241-8813 ) with their Stealth Next Generation Microphones. These are condenser microphones that attach right on the rim of any drum using an existing, single drum head lug. With a two-year warranty against damage by a flailing drumstick (drummers never actually hit microphones but the sticks do!) these mics are unique in their low profile, non-microphone look...they look like another part of the drum kit's hardware but with an XLR cable coming out. Each microphone has an onboard gate circuit with easy-to-adjust threshold and release time knobs and an indicator LED. The mic and gate circuit are phantom powered making this a big problem-solver for live sound mixers who will like the invisible look and good sound. There are specifically designed Stealth mics for kick and toms with four position EQ switches (three curves and flat) called Pre-Q™.The kick mic clamps to the back rim of bass drum and has a thin gooseneck mic that "sneaks" inside the drum via the air vent. The snare mic has the optional P-2 snare bottom mic mounted on a gooseneck boom that hangs down and points at the bottom head. This bottom mic is phase flipped and you can mix the relationship to the top mic right on the Stealth's body. Go to: www.3cinnovations

Peavey Kosmos


I immediately wanted for both live sound work and recording new Kosmos, a sub harmonic generator with true pro audio specs. A single rack space unit, Kosmos has a special tracking circuit that tracks the bass in your mix very quickly and generates low frequencies an octave below. Peavey's demo included a solo acoustic guitar recording that sounded fantastic even on fairly garden-variety speakers without a subwoofer.

The Quake control tunes the sub-harmonic generator's range for pleasing and musical subs. For additional articulation of the sub-harmonic, the Thud control (love these names!) adds a specific band of bass EQ an octave above the subs generated. Just for grins, Peavey threw in the Xpanse control which is a combined high frequency equalizer and width control. Xpanse widens and brightens vocals or guitars at the same time. Kosmos has both TRS and XLR balanced +4dBu I/O and the ability to route all low frequencies below 90Hz away from the main stereo outputs over to a separate monaural output jack for subwoofer amp/speaker or effects channel in a 5.1 surround mix. Go To: www.peavey.com

Eventide Eclipse


Eventide highlighted their Eclipse Harmonizer® 24-bit effects processor. The Eclipse is a "greatest hits" compilation of Eventide patches that started their lives in the company's other more expensive processors. With 90 algorithms built-in, Eclipse comes with AES/EBU, S/PDIF and both balanced and unbalanced analog I/Os. The single rack space unit has five times the processing power of the H3000 Harmonizer and retains the dual-engine technology configurable in series, parallel, stereo or dual mono. I liked the easy-to-use interface with the now familiar lay out of four soft keys, data wheel and numeric entry keypad common to all previous Eventide boxes. Ready and able to go 96kHz, the unit's back panel has connectors for Word clock in/out; ADAT or S/PDIF Lightpipe; a MIDI trio of connectors; and jacks for two different foot switches or pedals. I liked the Tap tempo feature, the Compact Flash I or II slot for patch storage, the well-lit display and the analog input meters with overload indicator. Go to: www.eventide.com

Martinsound MonitorMAX
Martinsound showed its new MonitorMAX Stereo Monitor Controller. MonitorMAX is the latest in the line of MAX multichannel monitor solutions many studios are using to extend the life of their existing consoles and systems into the world of 5.1 surround sound. MonitorMAX will run standalone or along with the MultiMAX Multiformat Monitor Controller and adds ten stereo sound sources (eight +4dB and two at -10dB) selectable to the monitor or cue feeds. The extensive talkback capabilities include a talkback microphone and preamp. This is the perfect way to add these facilities to computer workstations which lack these necessary features. The PanMAX Automated Surround Panner adds repeatable fader level and joystick panning with a visual LCD screen. You can automate divergence, stereo width and 360 degree panning. PanMAX runs as a single remote switchable to any source or in a group of remotes all lock to frame-accurate SMPTE. Go To: www.martinsound.com.

Marshall Electronics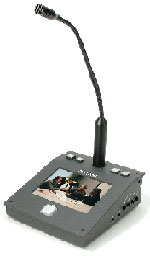 Marshall Electronics added an unusual new microphone to their MXL line called the AV-1000. This is a video conference control center used in teleconferencing and presentations where large video monitors can't work. The AV-1000 combines a small gooseneck condenser microphone and a bright, five-inch active matrix color monitor in a desktop base measuring 6 1/8 inches wide X 7 1/4 inches deep X 2 3/4 inches high. There are brightness, color, tint and contrast controls for the screen and the mic has a mute/talk switch. You can also switch between a regular video composite feed and your computer's VGA output. I would love to use this system for any presentation and other applications in the studio would be: the orchestra conductor can watch picture from his remote position easily and use the talkback mic; or about using extra cameras in a studio complex feeding the unit at private desktop locations.Go To: www.mxlmic.com.

Presonus Tube Strip
Presonus Audio Electronics announced four new products for pro audio recording at the show. The Tube Strip uses the Blue Tube mic preamp circuit with a three-band, semi-parametric equalizer for a single channel recording path. You get up to 70dB of gain with 22dB of headroom and both XLR and 1/4 inch I/O. Acoustique is an acoustic guitar tube preamp with both piezo-electric and condenser microphone inputs. This single channel preamp lets you mix between the two inputs and then equalize using a three-band EQ with sweepable midrange control. Finally, process the signal with a tunable notch filter for feedback suppression. The GTX44 Four Channel Gate and CL44 Four Channel Compressor/Limiter both use digital sidechain processing to control an analog signal path. The GTX44 has high and low pass, variable attack, release and hold parameters and a key listen. The CL44 has a variable high pass filter with an independent limiter and compressor. With both units you get balanced XLR and TRS I/O and sidechain inserts. Check www.presonus.com.

Crown International
Crown International showed three new very good-looking power amps called Power-Tech 1.1, 2.1 an 3.1. All are two rackspace designs with recessed level controls and input/output comparators called IOC. These amps are for musicians and mobile DJs so the ODEP (that's Output Device Emulation Protection) circuit protects the amplifier from possible bonehead mistakes. Rear panel jacks include: balanced input connectors, both 1/4 inch TRS and XLRs; five-way output connectors; and a three-way input sensitivity switch. Forced air cooling keeps things temperate and the better than 0.1% THD keeps things clean. Power ratings into eight ohms per channel are: Model 1.1 puts out 220watts, Model 2.1 does 325 watts and Model 3.1 makes 540 watts. Check www.crownaudio.com.

Line 6
Line 6 introduced their Studio Modeler Rack Processors. The three new units are Echo Pro, Mod Pro and Filter Pro. These glamorous looking, single rack space units use digital signal processing to emulate old stomp box effects of yesteryear. Echo Pro has all the models from Line 6's DL4 Delay Modeler plus a 60 second loop sampler. Mod Pro uses MM4 Modulation Modeler and Filter Pro features everything from FM4 Filter Modeler. All Studio Modelers feature: 24-bit A/D/A; dual-view (time/speed/BPM) display that calculates rhythmic delay times and mod rates; tap tempo; MIDI clock sync; 99 user programs; XLR balanced and 1/4 inch unbalanced I/O; analog bypass and internal power supply (no wall warts). Right now Line 6 is primarily an M.I. gear company, but note that ADAT co-inventor Marcus Ryle and Digidesign co-founder Peter Gotcher are key players in the company. More recording-related developments to come? Check www.line6.com.

Company Announcements


Tascam announced that it has acquired the stock of Texas-based NemeSys Music Technology, Inc. NemeSys is known for its popular software-based sampling and music production tools for the PC platform called GigaSampler and GigaStudio. The company also announced that it has signed the principal software engineers and previous owners of NemeSys to a long-term employment agreement in order to ensure continuing development of the "Giga" platform. Buying up a MI (music instrument) company is a first for Tascam and it will be interesting to see how they do with it.

By December, Sony will offer version 2.0 software for the DMX-R100 digital console along with a new MADI expansion card. Version 2.0 adds surround sound processing, 88.2 or 96kHz sample rates and numerous automation updates. The new MADI card supports 48 channels of I/O for interfacing to, guess what!, the Sony PCM-3348HR DASH tape recorder. Sony also announced an enhanced version of the DRE-777 sampling reverb. The expansion board runs at double sample rate (88.2 and 96kHz) and allows a split mode where two discrete reverbs run simultaneously. Sony also bundled three sampling reverb software packages that sell for $960 each into the DASK-S700 Complete World Sample CD-ROM that sells for the same price! Such a deal!