Glyph Trip 2


There were a lot of great recording hard drive choices at the AES Show. One of the smartest and quietest is the Trip2 from Glyph, which had a full Pro Tools rig set up in a quiet nearby hotel room to demonstrate this fact. This is a three-rack space unit with six, hot-swappable hard drive slots, AIT backup drive and DVD/CD-R burner. Within the Trip2, the hard drives are 7,200 rpm, up to 180Gb capacity and made super quiet enabling you to use the system anywhere in your control room. Smart also refers to Glyph's S.M.A.R.T. Manager software. S.M.A.R.T. Manager monitors the system, protecting your files with predictive failure analysis; warning you of possible problems before it's too late. Available in SCSI or now in FireWire using Glyph's bridging technology, the Trip2 is SAN-ready, warranted for five years and like all Glyph gear, engineered specifically for audio and video workstations. Visit: www.glyphtech.com/

Steinberg Nuendo 2.0


The two most exciting new changes for Steinberg are Nuendo 2.0 and their alliance with Euphonix. For Mac OSX and Windows 2000/XP, Nuendo 2.0 was first shown to only developers and insiders (no press invited) at a pre-show affair. The 32-bit floating-point mixer has been completely redesigned and ready to go up to 10.2 channel surround productions with 12 outputs available for every input, audio track, effect and group. There is even monitor multi-speaker switching, effect returns for adding effects to recording channels, and full delay compensation throughout the signal path. Nuendo supports AES31, Open TL 3.0 and OMF. It makes all the sense in the world that Steinberg develops integrated professional audio products with Euphonix, a manufacturer of digital mixing and production consoles. At the Steinberg booth was a Euphonix console functioning as a "front-end" control surface with Nuendo running on its main screen. Awesome is the future for them. Visit www.steinberg.de/.

Euphonix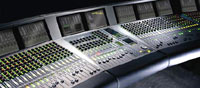 Euphonix had other great news beyond the Steinberg linkage with new upgrades for both their System 5 console (ver2.6) and the R-1 Digital Recorder with ver 4.0. System 5 users now have full 20Hz to 20kHz range on all four EQ bands with +/- 24dB, new notch filter algorithms, mix automation that conforms to new video edits, and many control surface enhancements and display graphics updates. The 48-channel, 96kHz/24-bit R-1 can now show as many tracks at once as you need with standard mouse editing and no limitation on number of tracks or track sheets per title. I liked the way the advance feature called "Slip Audio Sync" slips a region of audio while maintaining the start and end times of the clip's region. So much more at: www.euphonix.com/.
Sadie Series 5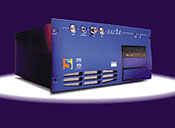 There were many announcements from Nashville-based Sadie. Series 5 with the DSD8 is the company's first multichannel system for complete 24/96, PCM (CD/DVD-A) and DSD mastering in true 64-bit floating-point glory. The two-channel DSD2 can be upgraded to a DSD8 at any later time and the entry-level RADiA workstation is now replaced with the Series 5 PCM4 rig. Besides the new look on the outside, Series 5 comes with Version 5 software for a new user interface (but you can still use the classic one if you like), full support for DirectX plug-ins, Windows® networking, simultaneous record/playback across all eight tracks, and the 64-bit word length is maintain throughout all editing. (No down dithering until your finished editing and processing). Another big announcement is the introduction of Cedar Audio's De-Noise 96 into Version 5 along with new versions of De-Click, De-Crackle and De-Thump. More at: www.sadie.com/.
Sascom/Cube-Tec's AudioCube 5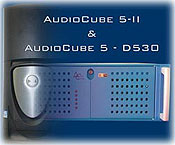 Although not on the show floor, over in a West Hollywood hotel, Canadian-based Sascom presented Germany-based Cube-Tec's AudioCube 5, a multichannel 24/96 integrated workstation expandable to 64 channel outputs. AudioCube 5 is available in the original, German-made rack mounted "blue box" platform shown or at a lower cost but equal performance, Dell D530 computer. Either way, AudioCube 5 uses open architecture with non-proprietary hardware such as Switzerland-based Merging Technology's Mykerinos card(s). Totally self-contained and using Cube-Tec's own highly specialized software Virtual Precision Instrument processing tools (plug-ins), AudioCube 5 does analysis, restoration, editing, archival, CD/DSD/SACD mastering and DVD-A authoring. The systems come turnkey and hardware optimized with preconfigured customized software such as Steinberg's Nuendo (multi-track), Wavelab 4.0 (stereo) and/or Merging's Pyramix (DSD/SACD). Expandable and scalable to future needs by way of new VPIs and additional hardware purchases; Cube-Tec and Sascom also provide many client services such as a sophisticated on-line/real-time diagnostic tech support path. Study: www.cube-tec.com/

Pro Tools 6.0


By far the largest and busiest booth at the show was Digidesign. The biggest news is version 6.0 for both Mac OSX and Win XP. As a big lover of OS 10.2, the new beautified Pro Tools on the Aqua interface is cleaner, clearer and more spacious looking…especially in mixer view. You also take advantage (finally) of dual G4 processors, the rock solid Unix-based environment and the advanced, customized search abilities of the new OS. All of these updates make PT fly. Other news from Digi's booth(s): all I/O boxes including the Sync I/O and MIDI I/O are shipping and the new Focusrite Platinum Voicemaster PRO is here. All at: www.digidesign.com/.

Studio Network Solutions' Fibredrive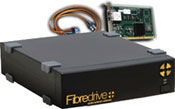 Fibredrive™ is a fiber optic linked hard drive for single workstations. Using fibre channel technology, Fibredrive frees up the PCI buss and eliminates DAE errors (in Pro Tools) when large files have to be split across multiple drives during live recording, tracking, editing, and mixing. 128 tracks of HD record/playback with heavy edit density are possible from a single fibre channel drive and up to 255 accessory drives from Studio Network Solutions can be daisy-chained as necessary. Fibredrive includes: single drive desktop enclosure, Fibre channel drive, SNS PCI host bus adapter, SNS software and cables. Check: www.studionetworksolutions.com/.

Akai DPS24


I have been using the Akai DPS24 for about a month now and it rocks! This is a 24-bit and up to 96kHz standalone workstation that is complete with 12 mic inputs, 60Gb hard drive, CD burner and all effects including all the cool mastering tools. You can record, do Pro Tool-like editing…even pitch correcting, fully automate a mix using the motor faders and then go on to final mastering and produce a CD master with this no compromise, full-sized system. There is no data compression used and no loss of functionality when you use a 96kHz sample rate. Plug in a pair of powered speakers or headphones, some mics and you are all set to record a hit! Eventually you'll be able to swap audio and editing files with other desktop computer-based rigs like Nuendo or Pro Tools but for now you can put this under your arm, go anywhere and record without any computer. Go to: www.akaipro.com/.