Digidesign Digi 002


Just when I thought the trend in hard disk recording systems was going totally virtual…i.e. mixer, input signal path, all effects and editing on-screen with no hardware other than an interface and your computer, Digidesign drops the Digi 002 at a pre-show DigiWorld event. Guess what? A lot of people still want faders, knobs, a control surface to record and mix music…and why not?! The compact 002 with touch-sensitive moving faders, rotary encoders, and a Control 24-like scribble strip looks irresistible and will win the hearts of any remaining anti-computer holdouts.

I liked the eight inputs—four mic/line with 48volt phantom and four line only, the surround-ready eight outputs, and all the direct button and switch control of usually mouse-only editing. Digi recognizes the growing migration towards host-based, cross-platform systems since the 002 connects to your computer using only a single IEEE 1394 Firewire™ cable…no proprietary internal cards to install…no DSP Farm Cards to buy…no internal cards at all. So just boot up Pro Tools LE 5.3.2 on either MAC (OS 9.x) or Windows XP Home and you're Pro Tooling with up to 32 tracks at 96kHz and 24-bit. As a bonus, you can unplug the computer and hit the road with the Digi 002 becoming a standalone live 8X4X2 digital mixer with onboard EQ, dynamics, delay, and reverb. Gotta love that! Check: www.digidesign.com.

Voyager Sound GraphiMix™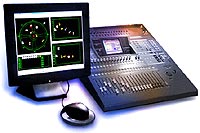 GraphiMix is a software system with an advanced graphical user interface that creates a real-time, artistic visual context for mixing music in stereo or surround. At first I thought this was a cool but non-productive video game that would occupy bored clients while I got work done. It turns out that GraphiMix is extremely useful for more visually oriented people who would better understand the mix process if they saw it…GraphiMix draws them a picture. Finally!

Anybody can actually see and more appreciate all my hard work and obsession over details of a mix! With direct MIDI support for Cakewalk's Sonar™, the Tascam DM-24™, and Yamaha's Promix™, 01V™, 02R™ or DME32™ consoles, GraphiMix will control up to 16 MIDI-controllable mixers at the same time. All mixers and their channels appear on a single "mix surface" screen using intuitive icons and "point and click" interfacing. Any and all mix elements like pianos, guitars, drums, vocals and effects have their own individual icons placed in a stereo or surround sound field. The screen shows fader gain, surround panning, subwoofer mix, center channel components, reverb sends and more. Clicking and dragging any icon within the 'virtual sound field' changes that element's entire mix relationship by simultaneously altering all the above parameters…just as any changes made normally back on any GraphiMix connected mixer are reflected (closed loop) back on the screen. This is great for music work and especially film music mixing and it WILL occupy your clients--who can now both hear and see how their production is mixed. Download a free demo at: www.voyagersound.com/.

Audio-Technica AE2500


One of the "why didn't I think of this?" new product was the Audio-Technica Dual-Element Cardioid microphone. This is a kick drum mic with both a dynamic and condenser element mounted side by side inside a single body. As a "proof of concept" the AE2500 works and I can see a whole line of purpose-built mics using two internal elements. I usually like to put both a dynamic and condenser on snare drums not so much for mixing them together but as an instant A/B choice to consider while the drummer actually plays. Mechanically locking two elements in a phase coherent way does mean you have the big option to mix them without worries. The 2500 has two sets of leads (double XLR connector) and both an 80Hz HPF and –10dB attenuator. The AE2500 along with the AE3000 and AE5100 condensers are the latest addition to the Artist Elite™ Series. Check the AE2500 out at: www.audio-technica.com/prodpro/profiles/AE2500.html


Shure PSM 200


The PSM 200 is a great way to go wireless monitoring for bands on a budget. I liked that members of a band could adjust their own instrument's volume in relation to a common monitor mix that may already has them included. I nicknamed it the "more me" system where the musician's output from his guitar, keyboard or mic is injected directly into his/hers wireless receiver via 1/4inch jack. OK it took me a second to get this but here goes: each band member wears a Bodypack receiver called the P2R. The Bodypack receives a house mix wirelessly from the Shure TransMixer called the P2T. So far pretty standard stuff with each band member getting a mix—even a separate mix if you use multiple TransMixers and frequencies.

If a certain band member wanted "more me," just use the 1/4 Inch input jack on the side of the P2R and connect his/her instrument directly. There is a "more me" mix control on the receiver for setting the "more me-to-track" ratio. When budget permits only a single house mix being transmitted, this works out great. All band members get their idea of a perfect mix: more me. A drummer could plug in his metronome and he would be the only band member to suffer the click track at the skull-crushing level drummers need. With a built-in hearing protection peak limiter, up to six hours on a standard nine volt and LED metering, the Shure PSM®200 system is a total pro solution for minimal dollars. Check: www.shure.com in a little while…I didn't find anything yet…this is a very new product.

Trident S40


I talked with an excited John Oram about his three new products: the S20, S40, and S100. The cool new channel piece is called the S40. This is his mic pre-amp, equalizer, and compressor all in one, two-space cabinet. You can also plug a direct instrument in the front panel and set the pre or post path of the compressor to the equalizer. Yes, the same metal knobs, look and sound of the Series 80 and TSM consoles. You'll get an all-Trident sound path altogether without patching anything together. The S100 is Trident's new full-featured eight-channel mixer perfect for your Pro Tools rack…Trident sound and classic British EQ in a rack mount mixer. The S20 is a two-channel, one rack space Trident mic pre with 60dB of gain and the unique ability to A/B two microphones or line inputs. An extremely useful feature I reckon! Go to: www.tridentaudio.co.uk/

Truth Audio TA-1P


Truth Audio's TA-1P monitor speakers are sure getting a lot of notice these days! It might be the great price at $999 a pair or just the great sound! These sound a lot more expensive to me! They sound real, are not too big for near fields with good bass response and are my new favs.

Peavey Electronics


I was surprised to hear that 60% of Peavey's 27 new products are pro audio .Last year's Summer NAMM show had Kosmos, the best sub harmonic enhancer I've heard with so much control, you can dial in as much sub energy as you want and also carve the nature of the low end to fit and play well in boomy problem rooms.

This year I checked out the Feedback Ferret™ II prototype with its 16 digital filters (or 32 mono), a panic filter, four user presets and –10dB/+4dB TRS and XLR connections.

Another proto one rack space unit to watch was the CEL-2A™ Dual Compressor/Expander with RMS detection and VCA gain-change elements. The VSX™II is a fully redesigned, two-way stereo/three-way mono crossover using a fourth order Linkwitz/Riley filter design. Yes, the real deal with 24dB/oct and a range of 60Hz to 6kHz. This gear is very fresh and you may find something at: www.peavey.com/

Presonus Firestation


The Firestation solves many problems in a very packed one-space unit. Firestation uses FireWire™ to connect your computer to the outside recording world. I think Firestation, being fully compatibility with any MAC or PC software and expandable for up to 48 channels of audio will become the defacto Firewire standard interface. The two mic pre-amps, tube saturation 'color' Drive control feature, balanced or –10dBv operation and the on-board ten-channel "latency killer" mixer leave little to be desired. But just in case, there are also MIDI I/O jacks, eight channels of analog and ADAT™ I/O, S/PDIF jacks, two Yamaha mLAN jacks for chaining multiple Firestations and word clock in/out BNC connectors. Visit: www.presonus.com.