With an estimated 300 new products unveiled at this year's just-concluded 2004 AES Show at San Francisco's Moscone Center, it was "tough love" to narrow it down to only 10 choices. I gauged the overall mood of the show very optimistic, as evidenced by my twice-as-heavy outgoing luggage-over-stuffed with press lit and lots of great swag.
Resolution Audio Reso Pre 873


There was much talk about remote microphone pre-amps at this show by both studio DAW and live sound engineers. The Reso Pre 873 is a two-rack space unit with eight mic pres based on the vintage Neve 1073 circuit that is controllable over MIDI.

Following Digidesign's protocol for their Pre mic pre-amp package, the Reso's GUI shows up directly on the Pro Tools screen with control over gain in 5 dB steps, phase (polarity) flip, mute, and phantom power on/off. There are also front panel controls to set it if your computer crashes. You can order it transformerless and also in a four channel version with expansion slots. Distributed by Audio Exchange International.
www.axidistribution.com

Tranzport from Frontier Design Group
The most talk about "new toy" was the Tranzport wireless DAW remote control. What part-time couch potato can resist this? Compatible with either Macs or PCs, the Tranzport works with most any software DAW application like Pro Tools, Logic, Sonar, Cubase, Digital Performer and more. The unit uses an RF link not infrared so it works all around your studio and through walls.

This is a two-way interface with a backlit LCD display that shows timecode position; a single track and name; track level; pan position and more. You can punch in/out, drop markers, solo, mute, and operate all the DAW transport controls from anywhere within range of the small radio transceiver connected to a USB port back at your DAW computer. If you add wireless headphone monitoring and a talkback button and you really could "phone it in!" (Maybe the next version?)

With footswitch input, stand mount and small size, Tranzport will be an instant hit for any musician working at home. And at $199 MSRP, look for this one to be a big sensation at Winter NAMM 2005!
www.frontierdesign.com

Tascam DV-RA1000 Hi-Res DSD Master Recorder


Tascam showed the DV-RA1000 stereo recorder that lets you directly record (no internal hard drive here) in Sony's DSD format for producing audiophile Super Audio CDs (SACD). Finally there is a way to mix to a high resolution stereo recorder at an affordable price point (around $1,500 MSRP).

It records to standard, DVD+RW discs or to CD media for standard audio CDs. I/O includes balanced XLR connections, AES/EBU and SDIF-3, and it records standard CD-DA, WAVE and DSDIFF files to CD and DVD discs in resolution all the way up to 192 kHz/24-bit in PCM or DSD formats. With complete clock interfacing, mastering tools, DSD I/O, USB connections, and large backlit LCD display, the DV-RA1000 is the new stereo mixdown deck. www.tascam.com

Cakewalk Sonar 4 Producer Edition


My buddies at Cakewalk just keep making Sonar better and better for easier workflow when producing music with large tracks counts (read this as 60, 80 or over 100 music tracks). For PCs, Sonar adds many powerful recording, editing and navigation tools that will make you a turbocharged power user without hardly any learning curve. I like the new partial clip muting for assembling (comping) performances from many different takes and the program's ability to "folderize" many tracks (like 12 tracks of drums) for better organization and less congested screen views.

Other great features from a much longer list than I can't fit here are: auto-crop/crossfade tool; an intelligent freeze implementation where only actual audio data is frozen (and not all the dead space between) and now you can designate which plug-ins are frozen; and finally the flexible SurroundBridge bussing and effect routing. www.cakewalk.com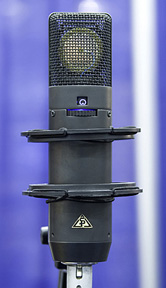 Stephen Paul Microphone
Designed by Stephen Paul, prior to his untimely passing in December 2003, the new Stephen Paul microphone is a fitting tribute to this world-renown microphone modifier and designer. I didn't get a chance to hear it yet but the sleek body is machined from brass and finished in matte-black. The seemingly bulletproof stainless steel grille protects a 34-mm diameter, 3-micron thick custom built capsule manufactured by Stephen Paul Audio.

The capsule is suspended in an internal shock mount to isolate it from stand-borne noise and a thumbwheel switch selects cardioid or omnidirectional patterns with or without the low noise 11 dB pad. Production is slated to begin in the first half of 2005. The microphone will be built entirely in the US and Stephen Paul Microphones are distributed exclusively through PMI Audio Group. www.pmiaudio.com




Universal Audio 8110 and 4110 Multi-Channel Mic Pre-Amps
I thought the eight-channel 8110 ($5,295 MSRP) and four-channel 4110 ($3,195) units very well featured for rack mount mic pre-amps. They are all Class-A discrete designs with transformer inputs, 80dB of total gain, and a three-way Shape switch for three different sonic characters or colors: Ultra-clean, Vintage, and Saturate. In addition to selectable microphone and instrument DI impedances on each channel, there is a dual stage gain/level scheme for dialing in the desired amount of overload for generating harmonic coloration.

The "mean looking" UA black front panel is set off with artic blue LED illuminated buttons on each channel for: phantom on/off, low-cut filter, attenuator pad, and phase (polarity) flip. The unit finishes with multi-segment LED level meters, large metal control knobs and internal power supply. www.uaudio.com




Audio-Technica AT2020 Cardioid Condenser Microphone
The "deal of the show" award should go to Audio-Technica for the workhorse AT2020 cardioid condenser at just $169 MSRP. The AT2020 is like any other A-T mic - a rugged and black side-address condenser microphone with a custom-engineered low-mass diaphragm and extended 20 Hz - 20 kHz frequency response.

The mic has a dynamic range of 124 dB and the ability to handle extremely high SPL up to 144 dB. The phantom powered AT2020 comes with a pivoting, threaded stand mount, protective carrying pouch, measures 6.38 inches long, with a max body diameter of 2.05 inches, and weighs 12.1 ounces, Available in December 2004.
www.audio-technica.com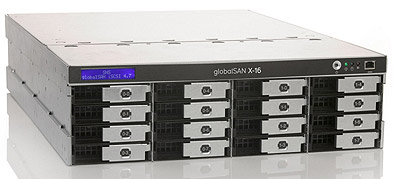 Studio Network Solutions globalSAN X-8 & globalSAN X-16
globalSAN X-8 and X-16 are the first fully configured iSCSI SAN systems to support both Macintosh and Windows DAWs or DV workstations. SNS will offer globalSAN X-8, an eight-bay RAID for four-users with 2-terabytes of high performance SATA (serial ATA drives) storage and globalSAN X-16, a 16-bay, six-user package with 4-terabytes of storage. Both systems include licenses of the iSANmp volume sharing software (where multiple users can work on the same projects at the same time) and both systems can be upgraded to support additional users/storage.

These are "plug 'n' play" high-speed Ethernet-based SAN over IP that approaches the speed and throughput performance of a Fibre Channel system. The globalSAN X-16 is rated to deliver 32 streams of DV or 8 streams of uncompressed SD video using Final Cut Pro. The globalSAN X-8 is rated to deliver 128 tracks at 24-bit/48kHz per workstation using Pro Tools. To learn more about these impressive systems including the administrative and security features.
www.studionetworksolutions.com

Sony Oxford Reverb Plug-In
Compatible with Pro Tools HD Accel, HD, LE, MacOS9, OSX and WinXP platforms, the new Oxford Reverb joins Sony's family of Plug-Ins: the Transient Modulator (TransMod), the original Oxford EQ, Dynamic and Inflator plug-ins. The Oxford Reverb can build virtual spaces of any kind imaginable from dry reflective ambiences, room and hall simulations, sound effects, to wide-open reverberant spaces with a large range of textures and spatial characteristics.

There is real-time, continuous control of virtually all parameters; dual independent paths for both early reflections and the reverb's tail and you can use each path independently or together. Also included are separate graphics displays for early reflections and reverb tail. With over 100 useful presets for music and post-production plus a five-band parametric EQ, the Sony Reverb Plug-Ins sell for $1,095 for the Pro Tools HD version and $550 for PT LE version. www.sony.com/professional




Mercury Recording Equipment M66


The Mercury 66 is a fully balanced, variable-bias limiter that features low distortion and noise under all conditions-whether used as a limiter or straight-through amplifier. This all-tube unit with input and output transformers was demoed at nightly seminars held at nearby Hyde Street Studios during the show. I've heard and seen this one play and it's a "colorist" that uses broad strokes to sound very much like the classic Fairchild 660 mono tube limiter-except without all the variability and inconsistent operation of those old room heaters.
There are input and threshold knobs, attack, release time, and metering controls, and the unit may be operated as a 2:1 compressor and then go to a 20:1 limiter depending on the average threshold level reached. All Mercury Recording Equipment's products are hand-wired using silver solder, are fully transformer balanced, and feature a distinctive vintage look with powder coating or baked enamel finish with engraved lettering. Professional audio distributor TransAudio Group handles these babies.
www.transaudiogroup.com and www.mercury-rec.com