Read About The Latest Drumagog 5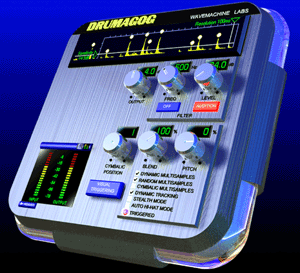 Drumagog is the ultimate drum replacer software from WaveMachine Labs. A Direct-X plug-in, Drumagog runs on PCs only (for now) and we ran it within Steinberg's Nuendo. Drumagog is based around an advanced multisample sampler engine controlled by sophisticated sound recognition software that instantly "reads" any live drum track (in real time), such as an snare or kick, for the exact levels and timing the drummer played. Once a live drum hit's level is determined, any of up to 48 multisamples in a "Gog" file are used to replace it.
For the most part, this detection/replacement process is automatic and trouble-free but you do have the option of altering all parameters and using any combination of dynamic and/or random multisamples from the large included library of great sounds. You can also import and use any other sounds in .wav, .aiff, .snd, or .gig (Gigasampler) file formats. Organizing thousands of samples, setting trigger thresholds, masking (preventing re-triggering for specified time periods), auto-removal of unwanted drum hits in overhead mics, adding "ghost" hits your drummer never played, adjusting latency to match your sound card, trigger tracking, auto sample rate conversion are all handled in the intuitive and often humorous main screen. All the samples used and this information are saved in the Gog file.
Drumagog's realistic drum replacement is made possible by the extent and detail the program considers and tracks the actual, real-world way a drum or cymbal is played. Positional Multisamples are subset collections of samples of the same drum or cymbal hit using a variety of different stick positions. I.E. If your drummer originally played only one cymbal you can replace any particular hit(s) with a hit on the bell instead of the edge or top. Same concept holds for replacing full, center-of-the snare hits with more subtle cross-stick hits...a great tool to have when rearranging songs in the computer after the band has left the building!
It's impossible to cover here all the wonderful and thoughtful features of this remarkable software so find out yourself by downloading a free 14-day demo at www.drumagog.com. The basic version of Drumagog sells for $99MSRP or up to $269 for the Pro version 3.0 we tested here. Telephone 877-318-WAVE. WaveMachine Labs is at 2250 Green Bay Rd., Highland Park, IL 60035.
---