WaveMachine Labs' Drumagog 5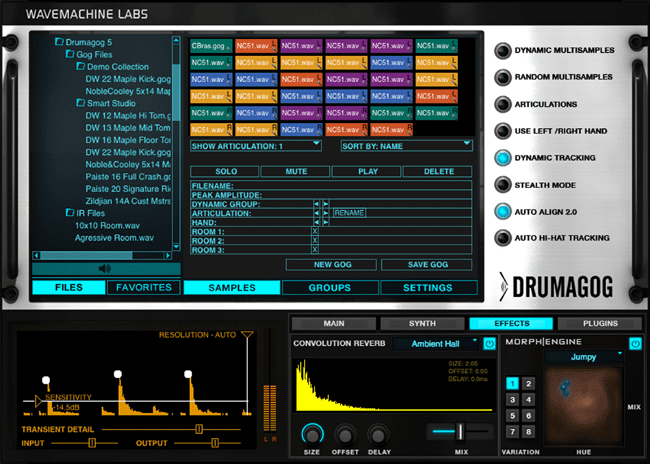 Replacing and/or enhancing drum sounds is a standard operating procedure for engineer/producers and Drumagog is a real-time audio plug-in that does it exactly, quickly and easily. Drumagog 5 is less trouble to implement than inserting an EQ on your mix. I have been using Drumagog 3 and then 4 regularly since they came out and I'm excited about the new Drumagog 5 because it brings so much new and powerful to the party, it's more of a new product.
Drumagog replaces any drum with a multi-sample .gog file (.aif or .wav files are also compatible) you select from a huge collection of included samples. The new file system is shown as a conventional folder tree within the plug-in's window. You can store samples across multiple drives or set a preference to always see a default drive.
Drumagog comes three ways: Basic ($149), Pro ($289) and Platinum ($379). Basic starts with advanced triggering mode that includes Drumagog's classic visualization window for seeing triggers and firing multi-sampled drum hits. It includes a 4GB sample library with cool room samples you can trigger and add to any drum--a different and more consistent way to add actual ambience than using a reverb plug-in. There are three different rooms offered along with alternate mic samples and are all phase-locked together for "no worry" substitution at any time during your mix.
Step up to Pro and add live triggering, favorite multi-sample lists, pitch control, a synthesizer section for tweaking drum sounds with a high resonance filter and/or noise, MIDI in/out, stealth mode, and Auto-Align 2.0--the new very precise triggering algorithm jointly developed by Fraunhofer in Germany. (They invented the MP3).
I tested the Platinum version in Pro Tools 9 HD and found in addition to the Basic and Pro features: Auto Hi-Hat Tracking detects hi-hat pedal position (open, closed, or in-between) and adjusts the samples accordingly; plug-in hosting where you can play any virtual instrument like BFD2, Kontakt, and Superior Drummer inserted directly into Drumagog; built-in convolution reverb that uses standard IR files with control over room size, delay, and more; and MoReVox's Morph Engine which will reshape every beat with many variation choices. Did I say that here is a lot here in one plug-in and it all works great!
After my initial shock and awe, I fell in love with the totally re-designed GUI! It is easy to navigate and get whatever you want set up. You can use multiple room samples on snare drum hits to build just the right ambience and overall vibe all inside of the plug-in--no need to strap on additional DSP hungry plugs. I found the new triggering super precise and the sample collection awesome. The Auto Hi-Hat Tracking mode is amazing--I found it worked wonderfully for replacing (or beefing up) poorly recorded hi-hats within a live drum kit.
Drumagog 5 runs on just about any modern host computer and VST, AU or RTAS host DAWs--use Windows XP, Vista, or 7 or Mac OSX 10.4 or greater. Way more on this one at: www.wavemachinelabs.com.
---
Web Page design is copyright © 2011 by Barry Rudolph